Tom Daxon: bespoke point of sale
We work with luxury British fragrance house, Tom Daxon, to produce unique point of sale.
Tom Daxon produces luxury fragrances, candles and has recently ventured into hand creams. Tom originally approached us to produce fragrance glorifiers to be displayed in airports and fellow retailers. The idea behind these plinths was to pull the customer's attention to the unique Tom Daxon brand.
Tom Daxon is modern, minimalist, and understated in its approach, with scents designed to be unisex. The perfume prodigy behind the company, Tom Daxon Bowers, launched his first collection by his mid-twenties.
Growing up, Tom had accompanied his mother on work trips to perfumeries. At just four years old, he met Jacques Chabert in Grasse, France. Today, Tom works with Jacques and his daughter, Carla. The father and daughter team have worked for the likes of Chanel and Guerlain, with Jacques the nose behind Molton Brown's ground-breaking Black Pepper scent.
When creating a new scent, the fragrance house does not consult focus groups or marketing plans, but instead, develop fragrances solely according to Tom's impeccable taste and preference. Tom starts with his own idea, based on a specific ingredient.
This is where the inspiration for the brands bespoke point of sale originates. Working closely with Tom we developed products that create a physical representation of these unique fragrances. Using a series of complex acrylic encapsulation techniques we capture the raw components behind each scent making each plinth relevant and personalised to each fragrance. The glorifiers match the Daxon branding, showing a minimalist approach. Clear acrylic is the ideal material for this project, showcasing the ingredient behind each of the scents without dominating the product.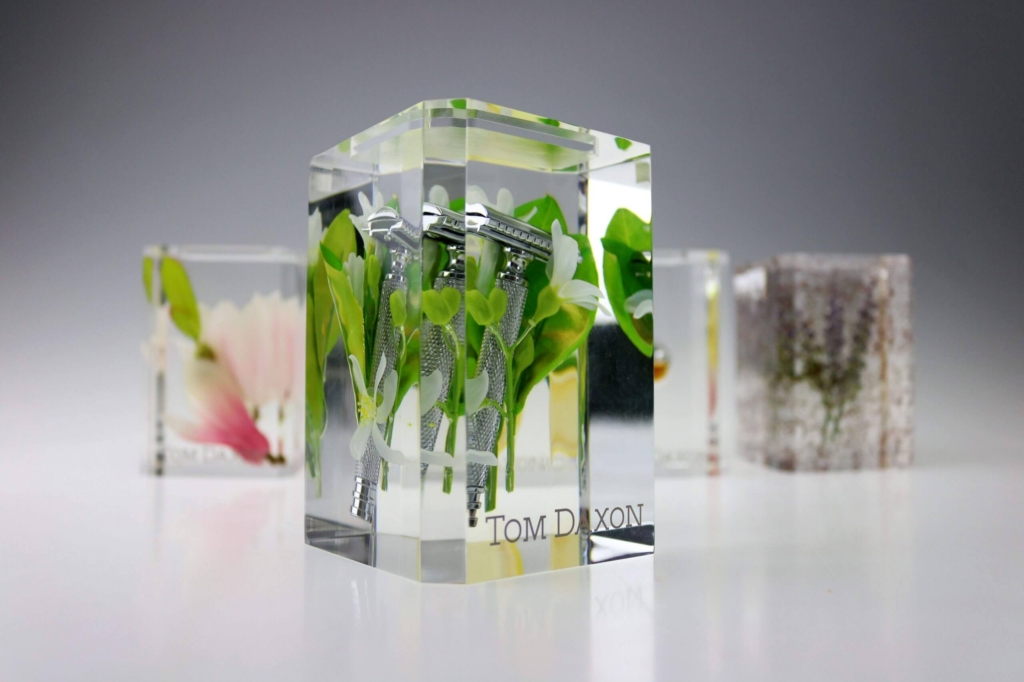 To achieve the results Tom desired Midton conducted several rounds of R&D, producing test samples. The wide range of unusual objects led to the development of new methods and apparatus to aid the casting process. With both organic materials and replica objects in play processing times and temperatures had to be closely regulated.
A particular highlight for us was crafting for "Fuyu". The top note of this scent is white peach, and we reflected this by creating a life-size peach using coloured 3D printing. This printing technology naturally produces a 'furry' product with pastels tones, the perfect reproduction of a peach.
When placed in shops, Daxon found the glorifiers to be highly effective. However, a few problems did arise. As the concentrated scents were continuously sprayed for testing, crazing began to occur in the acrylic at the top of the plinths. Not a company to settle for less than perfection, we quickly got to work with ways to resolve this. Through our experiments, we found the best, most foolproof, way to combat this issue was through casting a layer of tinted acrylic at the top of each glorifer. To ensure this aligned with Tom Daxon's branding, we pantone matched the shade of the top to the company colours, making it the perfect fit. Through this, the crazing was resolved, and the point of sale remains intact.
Working with Tom Daxon provides us with the perfect opportunity to experiment with raw materials and the beauty we can find in nature. Acrylic works perfectly for this bespoke point of sale as it enhances the products it displays, in its simplistic form. We always look forward to seeing Daxon's latest perfumes and how we can capture the essence through our craft!