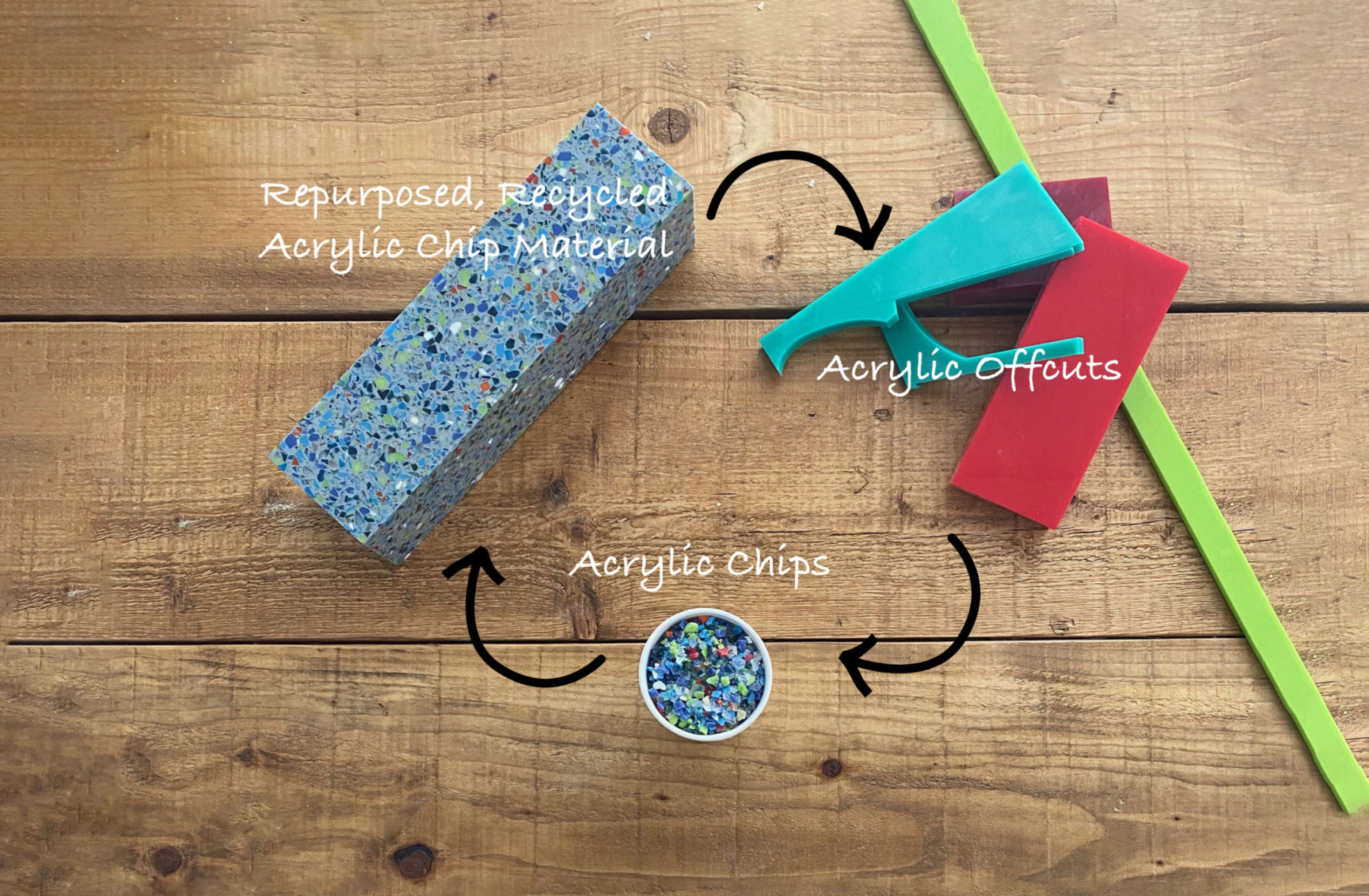 Sustainable manufacturing
Driving Environmental Responsibility and Efficiency:
Midtons' Commitment to Sustainable Manufacturing
Aspirations: Driving Towards Carbon Neutrality by 2030
At Midton, we have set ambitious goals to become a carbon-neutral manufacturing company by 2030. We are dedicated to implementing sustainable practices throughout our operations to achieve this milestone. Our aspirations encompass various key strategies, including onsite energy production, product diversification, adoption of recycled feed stocks, waste minimisation, and the creation of both circular products and circular processes.
Hurdles: Challenges in Pursuit of Sustainability
While we are dedicated to our aspirations of sustainable manufacturing, we recognise that our reality poses unique challenges. Unlike mass production, where efficiencies and standardisation can be achieved more easily, our small batch production requires flexibility and customisation.
Our manufacturing processes involve multiple stages and require the coordination of human, mechanical, and chemical factors. These factors present hurdles in our journey towards sustainability.
Even with the utmost care and precision, there can be variations and inconsistencies in the production of our products. These deviations can impact resource consumption, waste generation, and overall sustainability efforts.
Continuous Improvement: Learning from Challenges
Despite the hurdles we face, we approach sustainability as an ongoing journey of continuous improvement. We learn from the challenges presented by our unique manufacturing processes and seek innovative solutions to overcome them.
We are dedicated to implementing stringent quality control measures, ongoing training, and process improvements to minimise errors and ensure that sustainability remains a priority throughout our manufacturing operations.
By embracing feedback, collaborating with stakeholders, and fostering a culture of sustainability, we strive to bridge the gap between our aspirations and the reality of our operations in order to reach our goals.
Timeline: Progress Towards Sustainable Manufacture
At Midton, we have achieved significant milestones in reducing energy consumption and embracing sustainable practices. Here's a timeline highlighting key events:
2010: Transitioned to locally sourced biomass fuel for heating and curing acrylic, reducing reliance on fossil fuels.
2010: Transition to Biomass Fuel: We converted from heating oil to locally sourced biomass fuel for heating our facility and curing acrylic in the production process. This switch to sustainable biomass fuel, derived from forests within a 30-mile radius, reduced our reliance on fossil fuels and supported local, sustainable forestry practices.
2014: Installed waste compactor to minimise waste volume and optimise waste management.
2014: Waste Compactor: We installed a waste compactor to compress waste materials, minimising transportation requirements and optimising waste management. This step allowed us to reduce the volume of waste produced, leading to more efficient disposal and minimising our environmental footprint.
2016: Eliminated plastic tapes in dispatch operations to reduce plastic waste.
2016: Removal of Plastic Tapes in Despatch: As part of our commitment to reducing plastic waste, we eliminated the use of plastic tapes in our despatch operations. By utilising alternative packaging methods, we reduced the amount of non-recyclable plastic waste generated by our shipping processes.
2017: Implemented a cardboard shredder to repurpose packaging materials.
2017: Introduction of Cardboard Shredder: We implemented a cardboard shredder to repurpose boxes received as packaging materials. This solution enabled us to reduce the need for new materials by transforming incoming cardboard boxes into packaging fillers, promoting a circular approach to material utilisation.
2018: Introduced a cardboard cutter for custom moulds, reducing material consumption.

2018: Cardboard Cutter for Custom Moulds: We introduced a cardboard cutter to create custom moulds for our casting processes. By utilising cardboard as a material for moulds, we reduced the consumption of traditional materials and promoted a more sustainable and cost-effective manufacturing approach.
2019: Developed 'Remade' acrylic with up to 70% recycled content.
2019: Development of 'Remade' Acrylic: We successfully developed 'Remade,' our unique circular acrylic product. 'Remade' acrylic is made with up to 70% recycled content, significantly reducing the demand for virgin materials and promoting a more sustainable product offering.
2020: Invested in a custom-built acrylic shredder to complete the circular process and increase 'Remade' production.
2020: Investment in Custom-built Acrylic Shredder. This shredder enables us to efficiently process and repurpose acrylic waste onsite, further reducing our environmental impact and supporting the sustainable production of 'Remade' acrylic.
2021: Pioneered wider acrylic recycling in response to the volume of acrylic shields produced during the pandemic.
2021: Wider Acrylic Recycling Initiative: In response to the volume of acrylic shields produced during the pandemic, Midton pioneered a wider acrylic recycling initiative. As the only company recycling acrylic in the UK at the time, we recognised the major waste issue as these screens reached the end of their life. By providing a solution for recycling acrylic, we aimed to mitigate the environmental impact.
2022: Completed facility-wide upgrade to energy-efficient LED lighting.
2022: LED Lighting Upgrade: We completed a facility-wide upgrade to energy-efficient LED lighting. This transition significantly reduced our energy consumption and carbon emissions while providing long-lasting and high-quality illumination throughout our facility.
2023: Planned installation of a 100 kW solar energy system to further reduce reliance on conventional energy sources.
2023: Solar Power Installation: In autumn 2023, we will be installing a 100 kW solar energy system. This solar installation is projected to generate approximately 30% of Midton's energy requirement, further reducing our reliance on conventional energy sources and contributing to a greener future.
Need Some Guidance?
If you have a project you'd like to get started or you're not sure how to proceed, we can help.