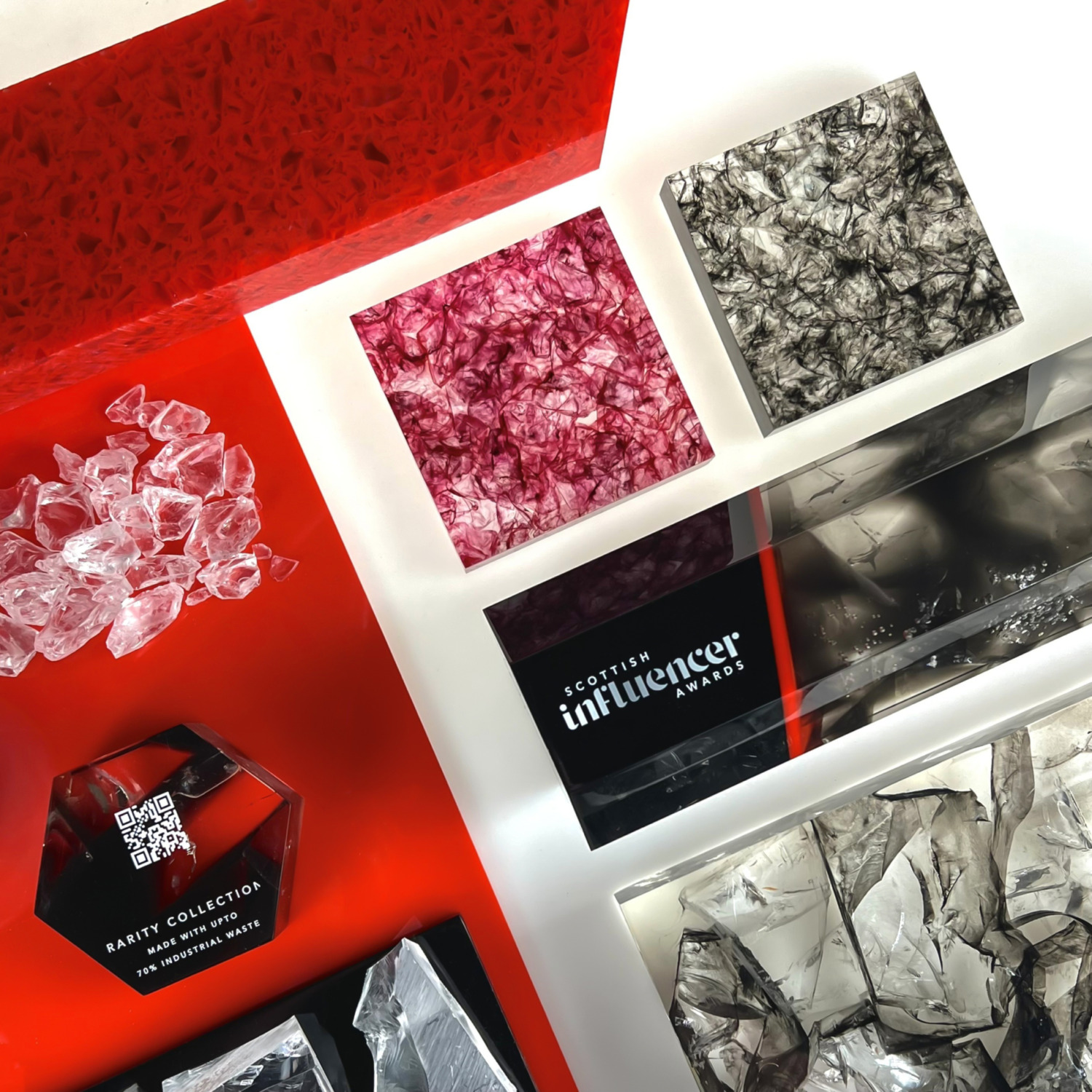 custom materials
Innovative custom materials with unmatched possibilities
Creating
Unique Acrylic Materials and Effects
At Midton, we pride ourselves on our ability to provide custom-made acrylic materials. Unlike off-the-shelf offerings from major brands, which are often limited to thicknesses of 3-5mm, we can provide bespoke acrylic in a wide range of thicknesses, shapes, colours, and finishes.
We offer tailored acrylic solutions to meet clients' needs, including Remade for sustainable messaging and conversation-worthy materials for space enhancement. Our custom-made acrylics create a unique touch and leave a lasting impression
Gradients
Gradients, or transitions, are a gradual blending from one color to another. Creating gradient effects with cast acrylic requires careful design and execution. To achieve the desired effect we cast acrylic in layers of differing volumes and pigmentation to 'ramp' one colour into the next.
Our gradient casting technique is particularly effective for pieces that are over 15mm thick or have a cylindrical form. Depending on the size and shape of the piece, we can incorporate multiple color fades to achieve stunning results. When executed correctly, gradient casting with acrylic can significantly enhance the quality of the final product.
Embedded Particles
Embedment is at the core of Midton and usually involves suspending whole objects. However, the same process also allows us to suspend fragments and particles within acrylic.
Our casting techniques are incredibly versatile, allowing us to produce unique materials that are both functional and visually striking.
As an increasingly popular style, Midton creates unique applications by embedding an array of materials, such as feathers, flower petals, gemstones, and fabric clippings, into acrylic. These materials not only diffuse light in captivating ways but also add a tactile dimension to any space.
Let's grab a coffee
Let's chat about your project idea over a (virtual) coffee!
we're here to guide you through our process.
Decorative Substrates
Whether you're working in jewellery, signage, or architectural installations, decorative substrates are a versatile and striking way to elevate any design project.
This technique involves casting a decorative layer inside a block or panel of acrylic. The decorative element can include a wide range of materials, such as screen printed artwork, woven metal, or intricate lace.
To further enhance this technique we can apply our forming abilities and shape the decorative substrate. Creating a sense of motion or texture within the acrylic, adding a unique visual dimension to the final product.
Fissures, Cracks and Bubbles
In recent years we have made groundbreaking strides in our ability to make materials with fissures, cracks, and bubbles. These artisan materials are reminiscent of precious stones or natural crystals.
We achieve this through hand cracking waste acrylic and putting it through controlled heating and cooling cycles. The result is a material that has a sense of movement and organic texture, which can add depth and intrigue to a piece. It's a popular choice for creatives who seek to create a natural or earthy feel in their designs.
Marbling
Another technique we use to create unique acrylics is marbling, which involves creating organic-looking patterns that resemble the veining found in marble. The beauty of this technique lies in its ability to create stunning, one-of-a-kind results that are unique to each piece create
This effect is generated by combining two or more batches of tinted acrylic resin and swirling them together. By adjusting the density of color and transparency of different batches, it is possible to create a material that is perfect for illumination or backlighting. The marbling technique is versatile, allowing it to be used in sheet format, machined to geometric shapes, or cast into more organic 3D forms.
Frequently Asked Questions about Custom Materials
What is the maximum size of panel you can produce?
Our standard acrylic panel size is 600x600mm. However, we can also produce larger panels through horizontal casting, with sheets up to 700x900mm in size. With horizontal casting, we can create all effects and designs that we offer. In contrast, vertical casting has more limited capabilities. However, if the desired material can be cast vertically, we can produce sheets up to 1300x800mm in size. Regardless of the casting method used, our team is committed to delivering high-quality panels that meet your specific needs and requirements. If you have any questions about panel size or design capabilities, please don't hesitate to contact us.
Can I order samples of your custom materials?
Yes, we have a wide range of samples in stock for our custom materials. If you are interested in seeing and testing our materials before placing an order, simply contact our customer team by phone or via our contact form. Please highlight the specific materials you are interested in and provide details on your intended application. Our team will then work with you to organize the delivery of samples directly to you. We understand that seeing and testing our materials in person is an important step in the decision-making process, and we are happy to provide this service to ensure your complete satisfaction with our products.
What is the minimum order quantity for custom materials?
At Midton we understand that every project is unique, and some require only a small amount of custom material. That's why we don't set minimum order quantities (MOQs) for our custom materials.
That said there are economies of scale to consider. Creating a unique material is a collaborative process, often requiring testing and communication with clients to achieve the desired results. If you can spread that investment across multiple panels/blocks or products you'll gain more value.
Our team is committed to working with you to find the most cost-effective solution that meets your needs and budget. Please don't hesitate to contact us to discuss your project and any questions you may have about MOQs or pricing.
Can I supply samples or components to include in my custom acrylic material?
Yes, we often collaborate with designers, artists, or product makers to create unique custom materials. Our team will be able to guide you on the potential success of your components in the casting process and likelihood of achieving your goals.
If we are able to progress to a testing phase, we require as much information about the samples or components we are casting as possible. This includes MSDS (Material Safety Data Sheets) and technical data sheets, where available. This information helps us ensure the safety of our team and the success of the project.
We are committed to working closely with you throughout the process to ensure your complete satisfaction. Please contact us to discuss your project and any questions you may have about supplying your own samples or components.
Need Some Guidance?
If you have an embedment project you'd like to get started or you're not sure how to proceed, we can help.