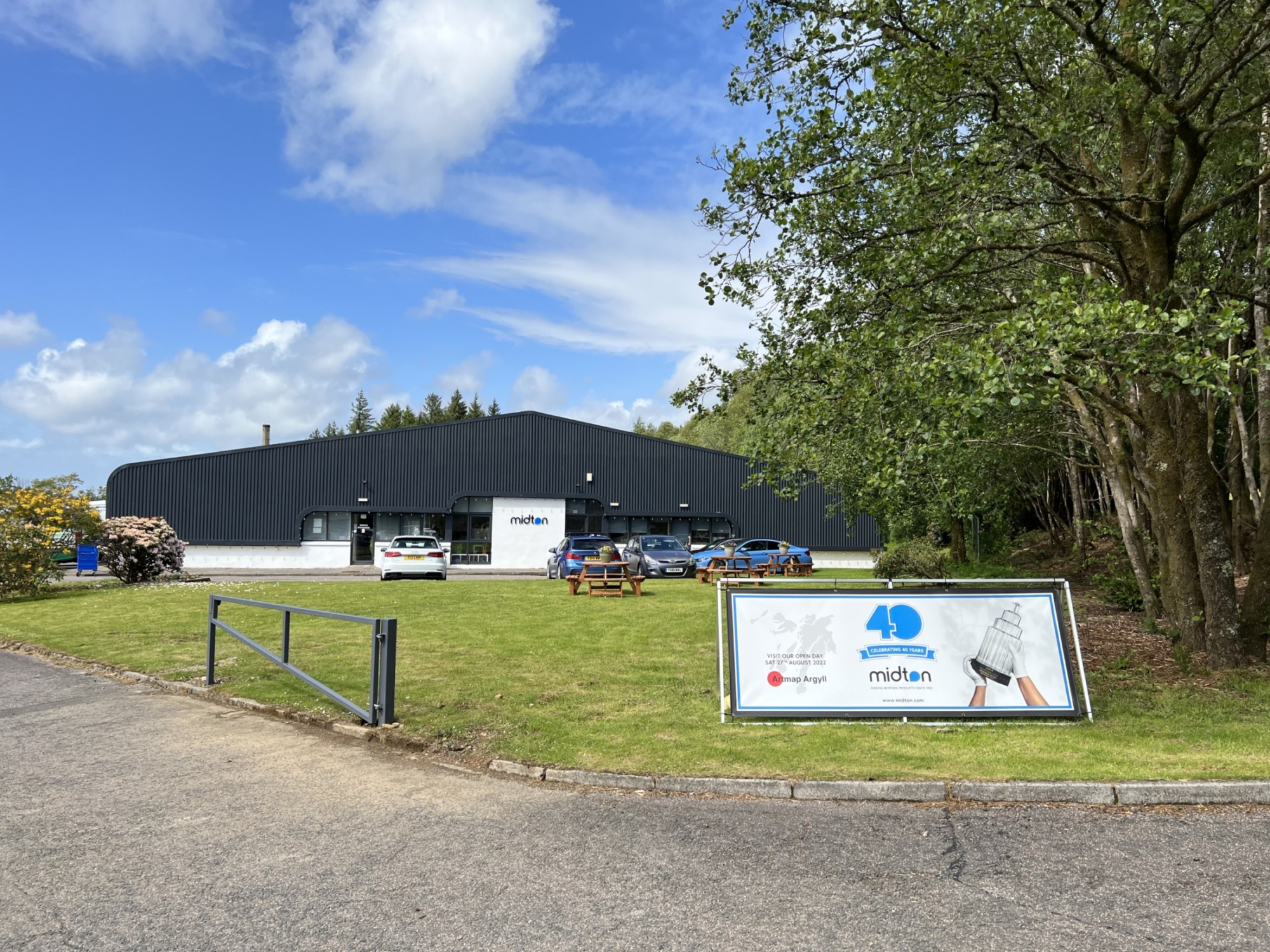 our heritage
Global Leaders in Custom Acrylic Since 1982.
Follow our Story Through the Years
Welcome to Midton Acrylics, a company with over four decades of experience in acrylic manufacturing.
We have a long history of delivering high-quality products and innovative solutions to diverse industries. We have always had a  strong focus on craftsmanship and attention to detail whilst embracing cutting-edge technology to create exceptional products. Our collaborative approach ensures that we work closely with our clients, listening to their needs and providing guidance throughout the project's lifecycle.
Thank you for joining us on this journey through Midton Acrylics' heritage. Explore our website to discover the endless possibilities of acrylics.
Our Origins
Midton Acrylics traces its roots back to the transformation of Midton Crafts, a company established in Midton Road, Paisley. Originally focused on creating gifts and ornaments from polyester resin, Midton Crafts underwent a significant evolution under the leadership of new owner Ken Enoch.
In 1980, the company relocated to Lochgilphead, where Ken introduced acrylic casting to the business and subsequently changed the name to Midton Acrylics. This marked a turning point in our journey, as we shifted our focus to become a pioneering force in the acrylic manufacturing industry.
Early Years
In its early years, Midton Acrylics carried on the tradition of Midton Crafts, producing small gifts and paperweights for the retail market. However, pivotal contracts to create encapsulations for whiskey brands and oil companies led to a significant shift in focus towards corporate gifting. These partnerships not only expanded Midton's customer base but also provided opportunities to develop and advance our product offerings.
Brewery Work
By the late 1980s, Midton Acrylics had established itself as a key player in the brewery industry. This specialisation involved manufacturing custom barware, including tap handles, encapsulated bottles, illuminated logos, and branded door pushers.
Through this work, Midton Acrylics gained a reputation for delivering high-quality products tailored to meet the unique requirements of our clients. This solidified the company's position in the market and made us a trusted supplier for clients' branding and promotional needs.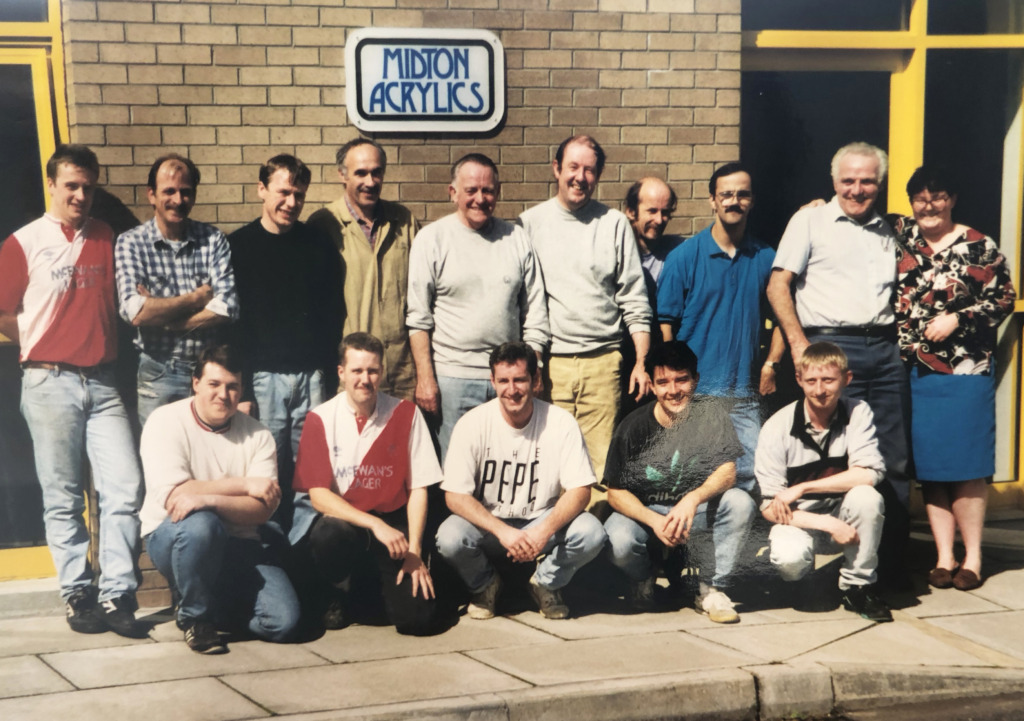 Opening day of Midton's custom built factory in 1990.
Ken Enoch, Midton Acrylics founder, back row, 5th from the right.
Expansion
In the early 1990s, Midton Acrylics outgrew its Lochgilphead site and, with assistance from Highlands and Islands Enterprise, embarked on constructing a new custom-built facility in the developing Kilmory Industrial Estate.
The new facility was designed to accommodate Midton's evolved production process, encompassing artwork generation, printing, casting, machining, and finishing. The integrated workflow aimed to enhance productivity and ensure the highest quality standards for our acrylic products.
Deal Toys & Awards
Shifts in marketing budgets and trends within the brewery industry saw a decline in this type of work. However, a new industry emerged as financial tombstones arrived in the UK from the US. In America, these items were commonly referred to as "Lucite" due to their frequent use of acrylic material.
The demand for these commemorative pieces aligned perfectly with Midton's manufacturing processes, and we quickly made them the focus of our manufacturing efforts. We provided production services for all major UK resellers, showcasing our dedication to delivering exceptional products that symbolise success and honor.
Further Expansion
During the early 2000s, Ken Enoch made the decision to divest his shares to his business partners at the time, namely Brian Johnston and Ewen Cameron, both of whom had been actively involved in the company since the late 1980s.
Driven by a strong determination to expand Midton's clientele and create more employment opportunities within the region, Brian and Ewen embarked on a transformative journey to elevate the company to new heights. Their strategy encompassed the establishment of a highly proficient team and substantial investments in cutting-edge technologies. An incredibly prosperous chapter in the company's history.
Product Development
Midton Acrylics embraced new processes to enhance our offerings in the awards industry. The introduction of 3D design, laser cutting, UV printing, 3D printing, and spray painting allowed for greater design flexibility, resulting in stunning and personalised financial tombstones and awards. 
As the company evolved, so did our skill base, expanding beyond acrylics and venturing into a wider range of materials. This expansion allowed us to provide sustainable sourcing and recycling options for our clients.
In addition to acrylics, Midton now works with materials such as timber, soft metals, and recycled plastics. This diversification not only broadens our product range but also aligns with our commitment to environmental sustainability.
Creative Future
Looking ahead, Midton embraces a creative future, building upon our specialisation in cast acrylics and expanding beyond our reputation as a leading manufacturer of awards and financial tombstones. 
Our acrylic foundry has transformed into a vibrant hub of creativity, collaborating with some of the world's foremost artists and designers to bring unique and beautiful acrylic objects to life. From sculptures and installations to bespoke architectural pieces, our expertise in cast acrylics allows us to push the boundaries of artistic expression. 
Simultaneously, our manufacturing plant continues to advance the creative opportunities of financial tombstones in a broad range of mediums. We continually refine our processes to ensure the highest quality and craftsmanship while also developing the client journey to provide an exceptional experience from concept to completion.
As we forge ahead, Midton Acrylics remains dedicated to nurturing creativity, expanding our collaborations, and pushing the boundaries of what is possible with acrylics. We look forward to the exciting artistic endeavours and innovative projects that lie ahead, continuing to be a trusted partner for those seeking exceptional craftsmanship.
Need Some Guidance?
If you have a project you'd like to get started or you're not sure how to proceed, we can help.