Building a Greener Future: How You Can Support Sustainable Manufacturing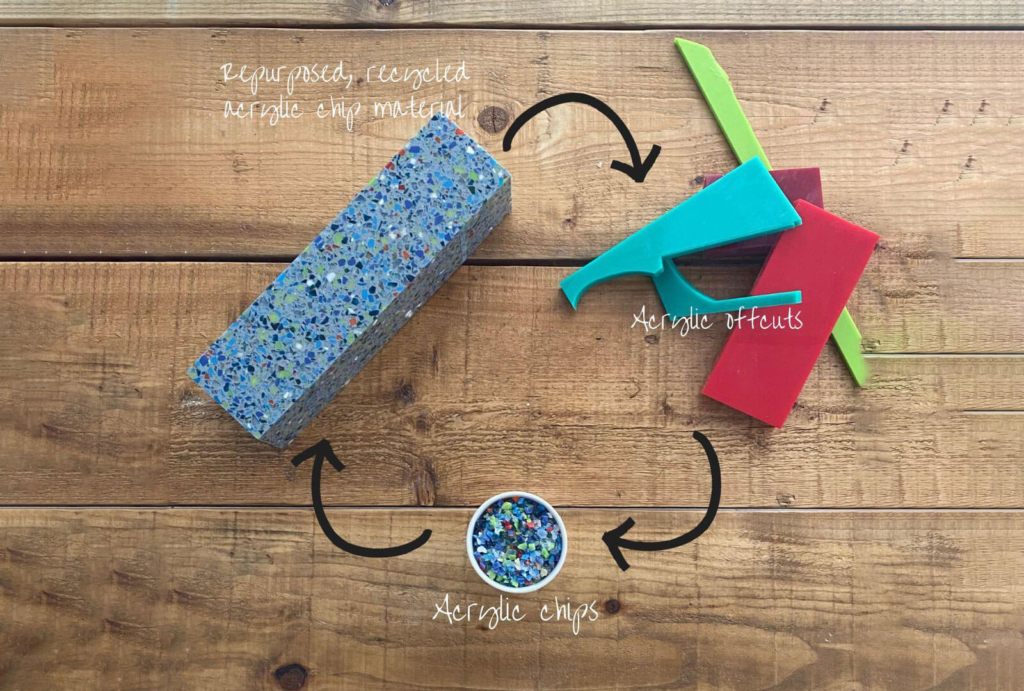 With our world's population expected to peak at 10bn in 2050, it is important to remember that the earth's raw materials are not limitless. Encouraging sustainable manufacturing is a moral, environmental, and economic imperative.
As businesses, we must start engaging in responsible production that supplies products and services that achieve the maximum life and value a resource can offer.
At Midton, we are advocates for sustainability and waste reduction. As a company that uses acrylic as its main material, we are conscious to stay mindful of everything we do and how we can do it better to reduce waste and our impact on the environment. 
The good news is that embracing sustainable manufacturing is possible for every business. We've outlined 3 key factors to consider when purchasing your custom products.
1. Use sustainable materials
When considering your bespoke product, consider asking your manufacturer about their sustainable range. Here at Midton, we have a large material offering, and where possible we ensure this is as eco-conscious as possible. Working with your brief and budget, our design team is on hand to guide you through your options.
Over the last few years, we have been developing an innovative new material derived from pre-consumer waste. Remade is our new alternative offering to our virgin acrylic, composed of 100% PMMA, and 65% recycled content. This new offering provides you with a sustainable option with the same properties of virgin acrylic.
Consumers can be tempted to shy away from sustainable options when hearing of a higher price point. At Midton, we are proud to offer our recycled material, Remade, at an equal price point, however, the same can not be said for larger corporations. Yet, it is important to note that often this is partially owed to the element of supply and demand. The more businesses who invest in sustainable options, the lower the price will subsequently become.
2. Sustainable Shipping
When enquiring with companies to work with, consider asking them about their shipping policies. Packaging can often be excessively used by companies, and is detrimental if not recycled correctly.
At Midton, we realised we could minimise our environmental footprint with packaging. As a company with a lot of deliveries, we identified an opportunity to reuse all of our packaging. Now, we shred this packaging and use it as packing material.
Additionally, we encourage our customers to place bulk orders where possible. Not only does this minimise extra processes and unneeded factory time, but it also reduces carbon footprint with multiple unnecessary deliveries. Financially, this is also an additional benefit, as this works out most cost effective in the long run.
3. Engage and support eco-minded businesses
These days, most companies should outline a sustainability policy. Even the smallest of changes can hold a big impact, and it is important to support and celebrate those making the effort. Where possible, we choose support like minded businesses, who embrace changes to help climate change.
Sustainability is a key priority for our team. That's why we invest our time into carrying out research and development throughout our factory to learn and adapt our processes to be kinder to the planet.
Over recent years, here at Midton, we have invested in several channels to move towards sustainable manufacturing. For our factory, we have invested in both a biomass heater and low energy LED lighting, reducing our energy usage by 30%. These are hugely worthwhile investments for any office to consider, and imperative to help our planet.
Additionally, outside of the factory, we support tree planting on a national and international scale. For every order placed, and every further £100 spent, we plant a tree – the equivalent of 1% of all sales. 
All of these changes were neither quick, nor cheap, fixes. However, they are all crucial to help our planet.