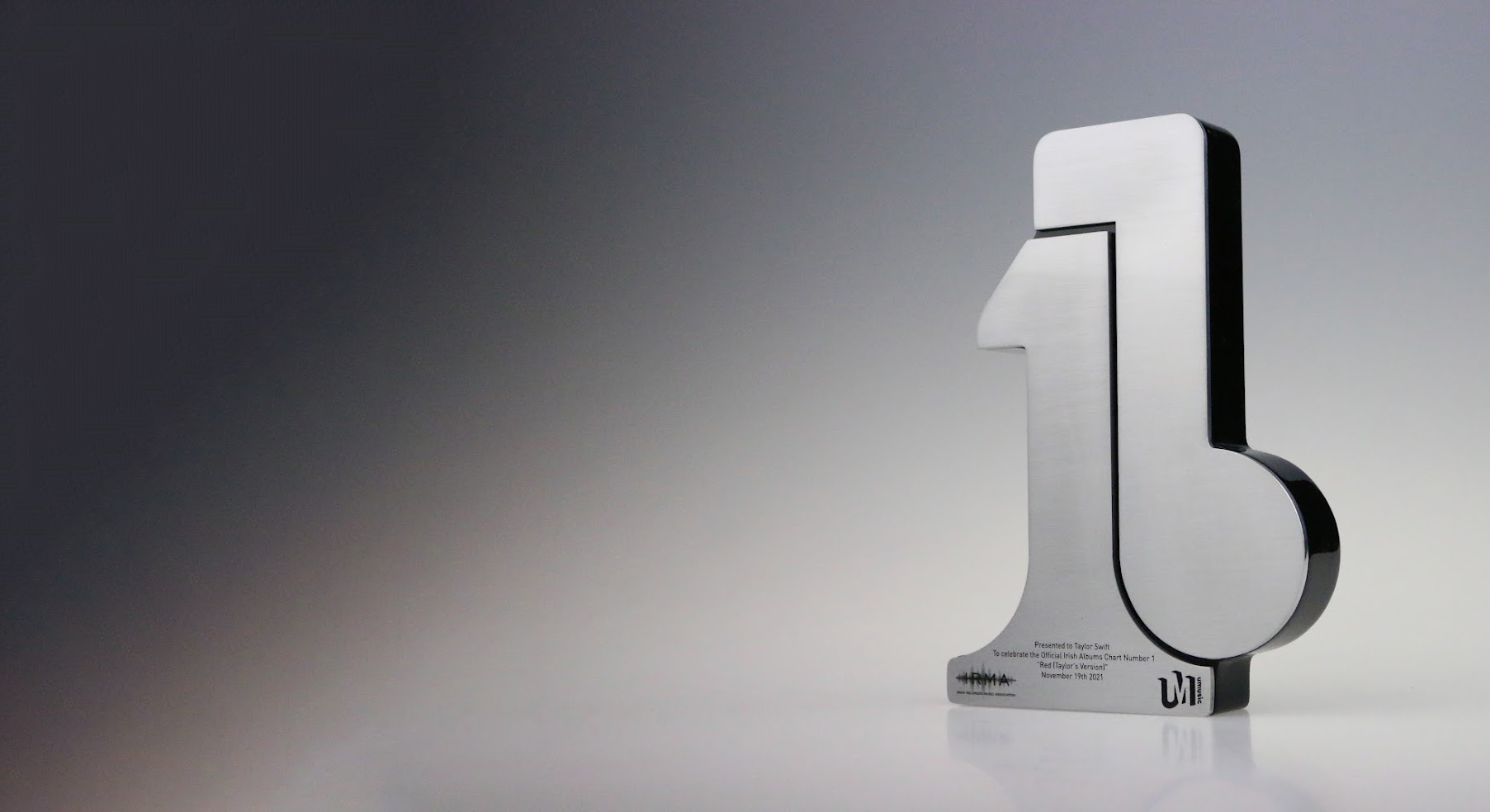 Case Study
IRMA Awards
Midton works with The Irish Recorded Music Association (IRMA) to produce unique awards, celebrating success in the Irish music charts.
Midton helps the Irish Recorded Music Association with the IRMA Awards
We pride ourselves on our rapid turnaround times, as well as providing a sustainable option to our clients. For example, collaborating with the team at IRMA, we have collectively produced a stunning award that encompasses brand value and sustainable manufacturing
Video by Warner Music Ireland (C) https://www.warnermusic.ie
Midton have been an absolute joy to work with and have managed the whole production process in a seamless manner even taking care of the delivery of the awards to the artists

Warner Music Ireland
Speaking with Mark Crossingham, board member of IRMA and Managing Director of Universal Music Ireland, he explains that this award takes influence from this. These awards are designed to celebrate the industry and boost the exposure of both IRMA and artists.
Conceptual Design
When creating the concept for the IRMA award, the team knew that to create something worth celebrating, a stand-out design would be needed. Luckily, the Chairman of IRMA, Willie Kavanagh, had contacts with the National College of Art & Design (NCAD), and a competition was initiated with local students to design the new award.
Students were tasked with both designing and researching manufacturers to deliver a quality product at the right price. From this, the students found our team here at Midton. Following eleven fantastic designs, the entries were judged by the IRMA board and Blathanid Treacy, who presents the Irish Chart run down on RTE's 2FM.
Following the announcement of the winning students, Kate McKenna and Katie O'Brien, IRMA officially approached us to move forward with production.
Manufacturing
The winning treatment was designed to be cast from black acrylic, with two brushed aluminium plates. Both plates represent a number one and a music note, blending the thought process behind the award.
The Sustainable Choice
The manufacturing enquiry arrived at the perfect time for both Midton and IRMA. Having recently developed our new material, Remade, we knew this would be the perfect award to showcase this sustainable option. Composed of 65% industrial waste, and 100% recyclable, Remade offers an eco-conscious option to virgin acrylic, with the same stunning result.
The material lends itself to a number of processes, acting the same as virgin acrylic in its ability – making this the obvious choice for awards such as IRMA's. In a world where we are ever aware of the impact our choices have on the environment, every choice makes a difference.
The Result
The end result of the design and manufacturing process has seen great success. The very first award was presented to Irish band, Inhaler, for their incredible #1 album, "It Won't Always Be Like This". Following this, the award has been a huge success, with recipients such as Billie Eilish, Dave, and Ed Sheeran.
When discussing working with our team here, Mark Crossingham says "Midton have been an absolute joy to work with and have managed the whole production process in a seamless manner, even taking care of the delivery of the awards to the artists".
The Irish Recorded Music Association (IRMA) is a non-profit organisation set up by record companies in the Republic of Ireland, to provide members with a convenient means to discuss matters of common interest and to provide a medium to present the Irish record industry in negotiations with Government and other parties.
It's a pleasure collaborating with IRMA to manufacture their bespoke award!
You can find out more about the Irish Recorded Music Association's mission and its members here: www.irma.ie.
GAY TIMES has worked with Midton twice now, and on both occasions they went above and beyond to make it an easy process for us. And, of course, on both occasions we were absolutely delighted by the awards they created for our flagship LGBTQ+ event. We can't wait to work with them on our next idea!
Sophie Christophersen
We have enjoyed a long-standing relationship with Midton, and are extremely and consistently thrilled with the products created for us. Not only do we trust in the team to deliver quality every time, we also very much appreciate the excellent service provided; we're well looked after and feel valued as a client, but equally the same can be said for our orders – always carefully and caringly packaged, and delivered on time.
Joanna Andersen
Midton met our needs perfectly and were an easy company to deal with. We had an idea for a corporate memento which didn't quite work however Midton made some suggested changes and turned this into a very successful product. They understood our requirements, suggested alternative ways to meet these requirements and were flexible in what they offered. We would certainly use their services again.
Stuart Alexander
Midton designed us a beautiful financial tombstone for us using a combination of different materials – wood, acrylic and metal. A very reliable and professional service with a quick turnaround time and reasonable pricing. Would definitely recommend them to any business looking for something genuinely unique that they can be proud to display in the office or send to clients.
Arun Kumar
Midton bring our sculptural concepts into reality through their high quality acrylic casting and exceptional technicality in design. Their inspiring team bring passion into our projects with care and attention to the creation of each component for our decorative lighting installations.
Alison Smith
From the outset, I found Midton to be really attentive, and I felt at ease with the company's approach. I would definitely like to work with Midton again, and wouldn't hesitate in recommending them for a bespoke service.
Brent Lees
I'm incredibly happy that your service has been nothing short of excellent. I'm confident that the society will keep on working with you for future festivals!
Chris Fernandez
Midton exude a passion and professionalism for everything they do. Always open minded and creative in their approach to the challenges we present them with. Sharing many of our core values, the development and delivery of collaborative projects are normally as enjoyable they are successful.
Dave Hollingsbee