Creating Custom Corporate Gifts
Corporate gifts are items given to employees, potential clients, charities, suppliers, and customers as a gesture of goodwill from your business.
You may add them into your marketing or invest in deal toys and financial tombstones to start new business relationships on the right foot. Creating custom corporate gifts shows appreciation to the individuals who keep your company afloat, and well-made items can act as a treasured memento for years.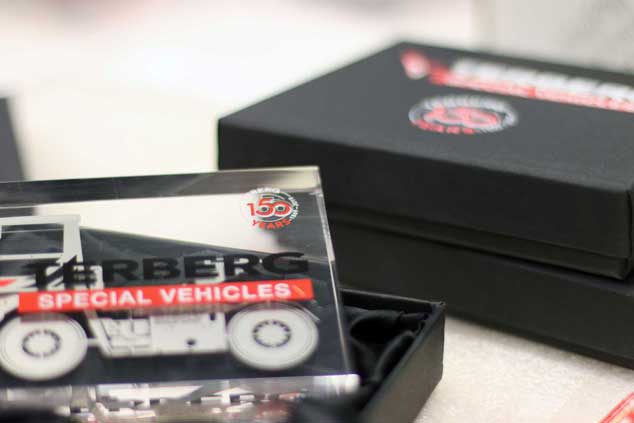 The value of creating custom corporate gifts is clear, but where do you even begin? Here are some ideas to get you started.
Try An Embedment or Encapsulation
An acrylic embedment or encapsulation is a classy corporate gift, and you're free to be as creative as you'd like with it. The limits of encapsulation are only your imagination since artists can cast just about anything in acrylic! In the past, Midton has worked alongside Manchester United and developed 'turf cubes' as a gift to loyal supporters. Each embedment included a patch of turf with GPS coordinates, so recipients knew which part of the pitch they've got stored at home.
What Should I Embed?
Perhaps a cube of turf wouldn't be of interest to your employees or your clients. The lack of enthusiasm ought to be expected if you aren't a football club! In this case, you may favour natural features like leaves or feathers. Coins and metal artefacts also make excellent features for encapsulation!
Consider your business's nature, and that should help guide your ideas for a custom corporate embedment gift. If all else fails, you can embed text, print and graphics inside an encapsulation! As long as you include your logo, your gift's message can be anything you'd like. Whether you're celebrating a workplace anniversary or you're supporting a local council or charity, you've got total free rein.
Why Choose An Encapsulation?
Bespoke products can increase the number of sales you receive. With increased brand awareness, your assistance will be perceived with high value. If you develop a practical encapsulation gift like a paperweight that can be applied in an office environment, any recipients will use it frequently. When the gift makes everyday tasks like reading easier, people will be reminded of your company, which proves a fantastic advantage to develop your relationships with current and potential clients.
Any custom corporate gift is automatically associated with goodwill. Clients who will receive your unique present will hold, maintain, and present your company in a positive light. Corporate gifts are essentially investing in your customer loyalty. As potential clients are thrilled to receive your gift, they'll be more likely to inquire about your services. Clients see your thoughtful gift as an indication that you value them, so it'll increase positive feelings towards your brand.
Consider a Memento
While mementos can include collectable coin encapsulations, they range from presentation boxes, plaques, and all the way to item preservation. The aim is to help you celebrate a person, a place, a time, an event, or an idea. There isn't a more appropriate gift to begin or encourage a business relationship than a defining moment for your business frozen in time. Mementos can seem slightly similar to awards, but they aren't explicitly related to the idea of winning a prize.
Why Settle on a Memento?
The main idea of a memento is to preserve a memory or a moment in time for recognition of significance. Whether for an individual employee's or a group's achievement, success ought to be celebrated with a permanent item – and success makes for incredible marketing material. When the stakes are so high, our team at Midton is confident in our ability to design the perfect commemorative for each unique situation.
Mementos can include tailored acrylic items, and Midton's experience in material handling means we are confident creating one-of-a-kind mementos. Whether you want to create custom corporate gifts from scratch with a uniquely designed sculpture or incorporate artefacts, oil and coins, any memento design can be tailored to your unique requirements. Think of your bespoke memento as a time capsule, holding a big business event into one item and suspending your joy in time. What a sensational gift to offer!
Remember Mementos Are Physical Marketing
Creating a physical marketing product can feel like a daunting task, even more so when you're developing a memento to publicly represent you and your brand. Whether you're investing into your mementos as point-of-sale pieces or designing luxury packaging, Midton can support you. Try and understand the sentiment behind your campaign, and that will assist with settling on a design and a bespoke marketing product that not only matches but empowers your message.
Keep your approach to designing mementos as fluid as possible. Seek an experienced manufacturer, like Midton, that are well versed in working with your chosen material! Start your journey from the very beginning with an initial idea, a theme, a hand-drawn sketch. If you don't have entire drawings ready for manufacture, arrange for a consultation with design experts! At a developer like Midton, our experienced team is prepared to guide you through the creation process at each stage.
The Conclusion on Custom Corporate Gifts
Custom corporate gifts are an incredible way to increase your chances of closing any sales because they entertain and show tangible value! Not only are you introducing your brand name into the faces of your potential clients, but you're also able to show appreciation to your treasured business supporters. Business supporters include long time clients and your employees! It would be best if you made it your mission to remind the recipients of your corporate gift that your company is a thoughtful brand that pays close attention to detail and consistently delivers high-quality.
When you're incorporating branded corporate gifts into your marketing strategy, you certainly want to build brand visibility and awareness for all the right reasons. At Midton, we work closely alongside your business to determine your brand values and create custom acrylic items accordingly to help you advertise your business in the right light. Contact us to find out more.