From Midton Acrylics to Midton: new vision, new brand, new website
Our Vision: design, make and deliver globally renowned product experiences


Our regular customers will have already noticed many of the changes here at Midton. We have redefined many aspects of the business and re-focused our company culture. We have taken the time to consider who we are and who we are trying to become as a company. We are very pleased with this renewed focus and we'd like to spend a few minutes to explain how we've changed as a business.
Creating a customer experience that inspires and delights
Allowing a customer-centric ethos to drive every aspect of the company
Almost all of the biggest changes here at Midton are a direct result of our renewed focus on our customers — on providing a customer-centric service. Whilst we have always cared about our clients and tried to meet their needs, we have increased our focus, allowing this holistic perspective to influence and shape all aspects of our business.
We're aware that 'customer focus' is a bit of a buzzword at the minute, but we think it is trending for good reason and that it's a great idea to allow this ethos to affect how we work and develop as a company. Our customers are the most important part of Midton; without a diverse range of clients, we would never have made it this far!
Our customer-centric ethos is perhaps best illustrated by our commitment to work to our clients' schedules, as opposed to them working to ours. Sometimes this makes our lives a little more difficult… but we also know that it's one of the reasons why we have such high rates of returning clients and the hustle and bustle these short deadlines creates gives the midton headquarters a strong drive and sense of excitement.
Defining our distinct services
Bespoke Manufacture, Custom Acrylics and Recognitions
Whilst our focus on our customers looks outward, we have also looked inward, reassessing and defining our different services. We felt it was important to understand the main aspects of our business and we discovered that almost everything we design and develop at midton can be organised into one of three distinct services:
Bespoke Manufacturing — Our unique manufacturing capabilities coupled with our in house creative team enables us to deliver a diverse mixture of high-concept products for clients across all industries. Specialising in small batch production Midton can support you in one off prototyping to projects of 5000 units +.
Acrylics — High-end acrylic manufacturing, acrylic embedment and bespoke materials for clients across a range of industries. Making materials from scratch Midton are able to produce pantone matches, colour effects and textured materials at custom sizes.
Recognitions — Financial tombstones, deal toys, Industry Awards and Employee Recognitions. For 30 years Midton has been delivering unique and timeless recognition awards. Now using a wide range of cutting edge technology and working in a wide range of materials Midton continue to lead this industry.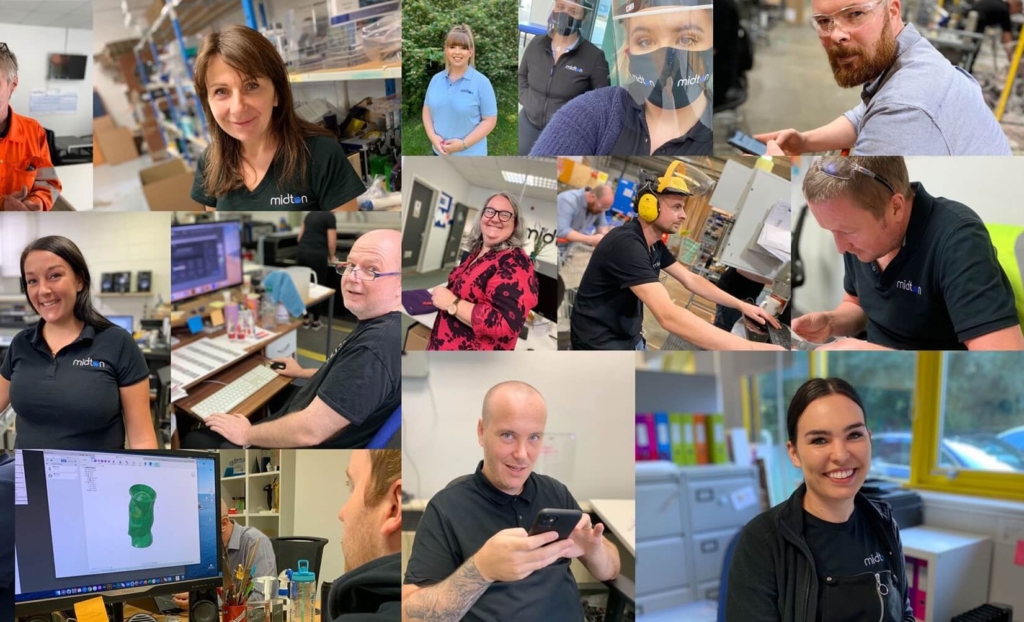 Offering unique experiences
Nothing we do is "off the shelf". Everything is unique. In fact, a dedication to our products' uniqueness is perhaps the one thing the acrylics, brand tools, and recognitions sections of midton all have in common. Every client we work with is one-of-a-kind, so everything we design should reflect this.
Our products as experiences
We have also redefined the way we think about our products. Rather than looking at them as just physical objects, we are instead looking at our products as experiences; we are paying attention to the reactions and emotions they evoke in people. This shift in perspective has added new insight into the power and impact our designs can have on their various audiences.
Manufacturing: a change of mindset
We are still a manufacturing business, but we are taking a more holistic approach by expanding the information that informs our manufacturing processes. One way we're doing this is by looking at the various stakeholders that interact with or rely on our products and finding ways to make their jobs easier — often by ensuring that our products meet each person's needs along the way. Manufacturing is still a core part of midton's brand, and we are trying to put even more thought and consideration into every aspect of the manufacturing process.
Responsibility is key to the Midton brand
While we have always been a responsible company, rebranding is a great opportunity to reassess and redefine our values and our processes. Responsibility is important in every industry, but the nature of that responsibility is also unique to each industry. We think it's important to recognise the duty we have to our clients — to recognise the effect our products can have on our clients' advertising and marketing campaigns. Our products and services can greatly impact our customers' businesses and it's important to always be sensitive to this.
On the topic of responsibility, it's worth noting that we are also going to greater lengths than ever before to reduce our impact on the environment. Acrylic is an oil-based plastic, so we believe it is our responsibility to ensure that Midton's environmental impact is mitigated and that our behaviour as a company is responsible and sustainable.
Greater understanding of physical marketing
We have always been in the physical marketing industry, but our rebrand has prompted us to consider the nature of physical marketing in more depth and to allow these considerations to inform and inspire the work we do.
We have also considered and developed our own knowledge of the way our customers will use our brand tools, recognitions, and acrylics to achieve their own physical marketing goals. There's a tangible, tactile aspect to physical marketing that you don't have with digital or even print marketing. This tactile quality can make a lasting impression on customers and it's something luxury brands often go to great lengths to convey.
Marketing is about emotion, and physical objects can be more emotional and evocative than digital and print media. We are going to greater lengths to consider the emotions our work evokes in our customers' target demographic. We believe that an enhanced sensitivity to the emotional aspect of physical marketing results in significantly better final products.
It's an exciting time here at midton and we hope we've conveyed at least some of this excitement in this article. There is so much more happening and developing in the midton headquarters, so watch this space over the next few months if you' like to know more. If you have any questions for us, please don't hesitate to get in touch.