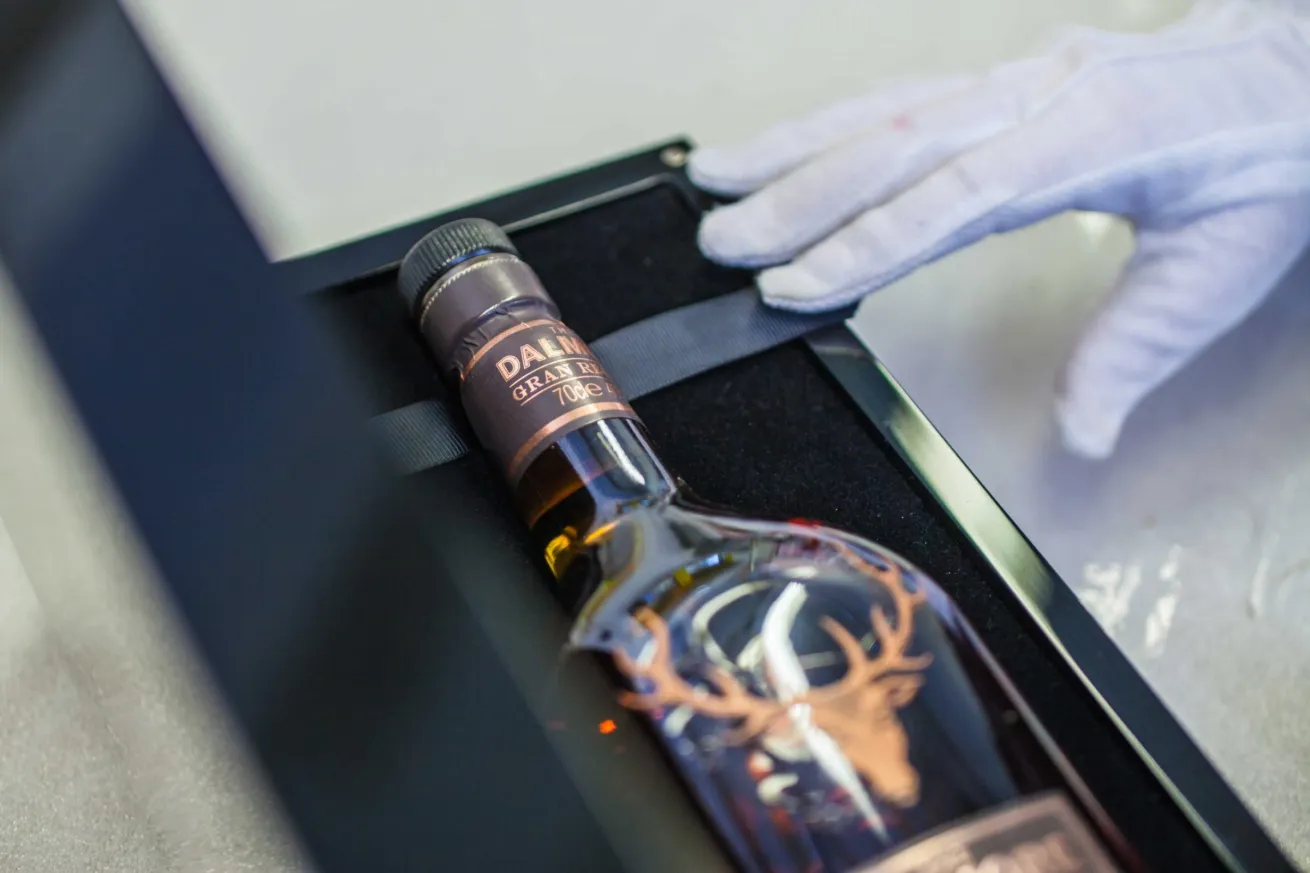 Case Study
The Dalmore
The Dalmore is a luxury whisky brand owned by Whyte & Mackay. The distillery is located north of Inverness, the capital of the Scottish Highlands.
A whisky of legendary depth and finesse needs a presentation case to match
Forming relationships with our clients is always important to us here at Midton, whether it be one-off projects or long-term contracts, we remember them all! For us, these relationships come hand-in-hand with growth.
We always strive to create the best possible product here at Midton, and this often means adapting our skills to learning new machinery and technology that becomes available to us. Through this, we grow alongside our client, continually striving to offer higher standards of work. Our relationship with Scottish whisky producer, Whyte & MacKay, is a prime example of this.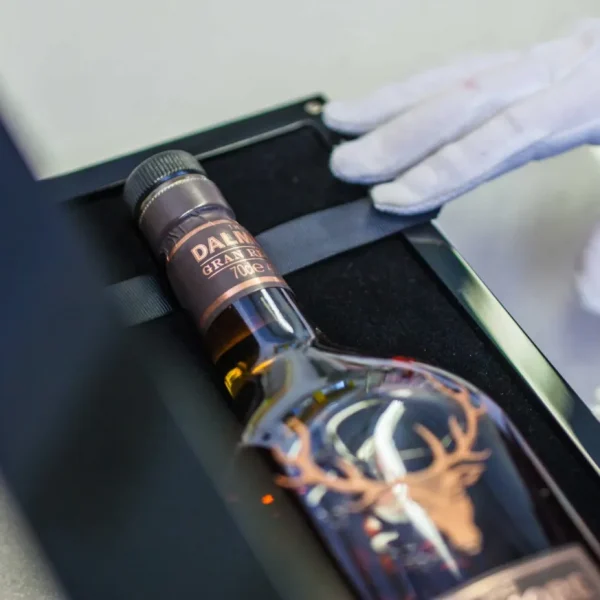 Who is The Dalmore?
Descendants of the Mackenzie clan became owners of the Dalmore distillery in 1867, and the Royal stag still features pride of place on each bottle. Dalmore expresses the importance of the use of the stag, stating that it is:
an emblem which encapsulates a rich past whilst also embodying the primes that The Dalmore will remain at the pinnacle of single malt.
The brand's different casks are enjoyed all over the world, and are somewhat of legend within the whisky world. The luxury experience of The Dalmore is of high importance, with the company producing the world's first whisky bottle to break the six-figure price barrier with The Dalmore Trinitas.
How did we form our relationship?
The Dalmore reached out to us in 2008 after their Brand Leader had been on a global trip and received a gift composed of acrylic. Upon examining the gift, he experienced the high quality, weighty, prestigious feel that acrylic holds and felt it matched their high standard. A luxury, polished feel, without the flaws found in lacquered boxes. In finding Midton they found a supplier that could deliver high quality materials, small custom batches and short timescales which was just what they needed for their private collections.
The Original Box
Having worked with The Dalmore for many years now, we have constantly refined our work to offer our client the best quality possible. The first boxes we had created followed the oval form of their iconic bell-shaped bottle. The 2008 boxes marked a significant advance in the company's moulding processes. The size of the casting and scale of the order was foreign territory for us here at Midton. Having previously worked to a smaller scale in the early days of complex moulding, creating hundreds of boxes for the luxury company was an exciting new prospect.
Midton always strives to reflect a company's branding and ethos. With such luxury as The Dalmore, we knew our work had to be to an impeccable standard. While The Dalmore were happy with the presentation packaging, here at Midton we always strive to go that extra step and refine our work. We see working with The Dalmore as the perfect opportunity to invest and advance our machinery and tooling. Through the investment of advanced CNC machinery, we have been able to refine and reduce our number of processes involved. Today, we have managed to develop the moulding process down to one, in turn cutting out five processes. Through new machinery and tooling, we have little hand work, apart from polishing. This is a big milestone for us here at Midton, and allows us to fulfil large, perfectly identical orders for companies such as The Dalmore. Investments have also been seen in new metal moulding solutions and super fine polishing materials – all leading to precision and perfection of the final product. The Dalmore's luxury presentation packaging reflects the brand, representing true excellence.
In addition to the efficiency and precision of new machinery, refining the processes involved within the presentation packaging has led to a boost in sustainability for us here at Midton. We now use completely reusable moulds, made from recyclable cardboard, which leaves little waste. We are always looking for ways we can improve our sustainability as a company, and will continue to do so as our collaboration with The Dalmore extends.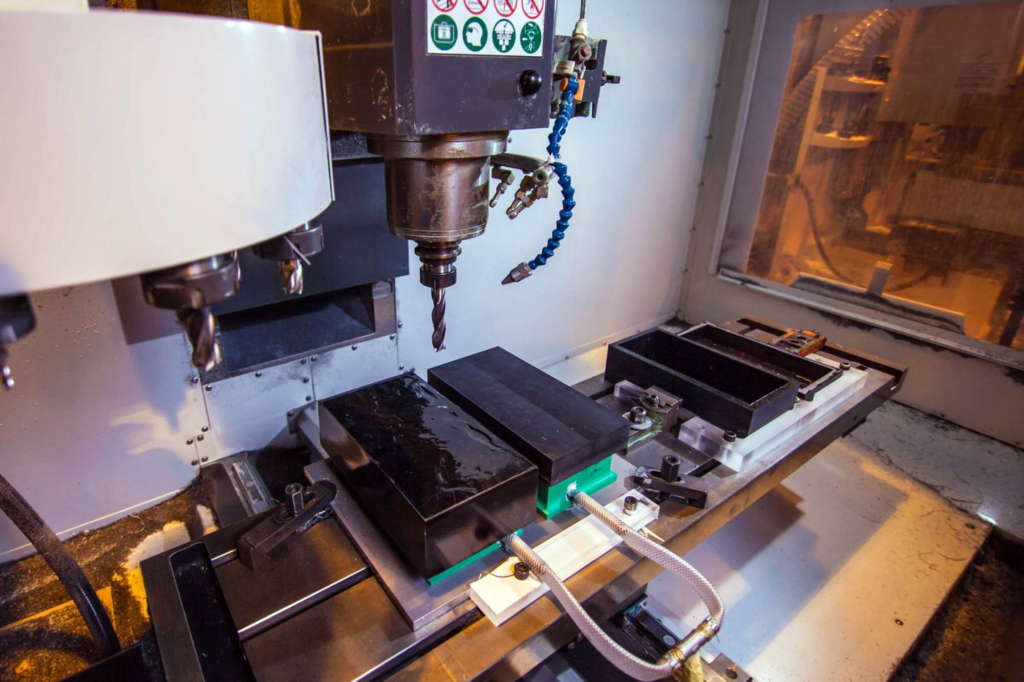 GAY TIMES has worked with Midton twice now, and on both occasions they went above and beyond to make it an easy process for us. And, of course, on both occasions we were absolutely delighted by the awards they created for our flagship LGBTQ+ event. We can't wait to work with them on our next idea!
Sophie Christophersen
We have enjoyed a long-standing relationship with Midton, and are extremely and consistently thrilled with the products created for us. Not only do we trust in the team to deliver quality every time, we also very much appreciate the excellent service provided; we're well looked after and feel valued as a client, but equally the same can be said for our orders – always carefully and caringly packaged, and delivered on time.
Joanna Andersen
Midton met our needs perfectly and were an easy company to deal with. We had an idea for a corporate memento which didn't quite work however Midton made some suggested changes and turned this into a very successful product. They understood our requirements, suggested alternative ways to meet these requirements and were flexible in what they offered. We would certainly use their services again.
Stuart Alexander
Midton designed us a beautiful financial tombstone for us using a combination of different materials – wood, acrylic and metal. A very reliable and professional service with a quick turnaround time and reasonable pricing. Would definitely recommend them to any business looking for something genuinely unique that they can be proud to display in the office or send to clients.
Arun Kumar
Midton bring our sculptural concepts into reality through their high quality acrylic casting and exceptional technicality in design. Their inspiring team bring passion into our projects with care and attention to the creation of each component for our decorative lighting installations.
Alison Smith
From the outset, I found Midton to be really attentive, and I felt at ease with the company's approach. I would definitely like to work with Midton again, and wouldn't hesitate in recommending them for a bespoke service.
Brent Lees
I'm incredibly happy that your service has been nothing short of excellent. I'm confident that the society will keep on working with you for future festivals!
Chris Fernandez
Midton exude a passion and professionalism for everything they do. Always open minded and creative in their approach to the challenges we present them with. Sharing many of our core values, the development and delivery of collaborative projects are normally as enjoyable they are successful.
Dave Hollingsbee