Product Launch – Beinn An Tuirc
From Barbados, to Campbeltown (with a small layover in Lochgilphead) 2020 has been a strange year for us all.
At Midton, we've had to change and adapt to new projects. When a new opportunity came up to work with local distillers, Beinn an Tuirc, on screen printing bottles for their new venture, we knew it would be a great time to experiment and develop a new skill. I caught up with one of the directors, Emma, to talk about our partnership.
Much like us here at Midton, Emma explains that Beinn an Tuirc's ethos is rooted in sustainability. Their gin is sustainably produced using the distiller's own renewable energy, powered from a small hydro-electric scheme on the estate. Recognising their carbon footprint from processing and distribution, the distillery also has a dedicated tree plantation site to help reduce their impact.
Before meeting the company directors at a course a few years back, Emma admits that she had no knowledge of Midton, or what we were capable of. Admittedly, she did not think that the company would be an opportunity for collaboration, with the use of acrylic holding a negative stereotype for damage to the environment. After a tour of our factory, however, Emma was blown away by how innovative the company was.
Emma was also surprised by Midton being a major employer of the local area. Beinn an Tuirc have an ethos of supporting local businesses, and keeping work local where they can, so this resonated with the distillers. Following this, they were excited to learn that we were a company that matched their thoughts on sustainability. We informed the distillers of the processes and projects we were undertaking to boost our sustainability and cut back our wastage during projects. Beinn an Tuirc respected our willingness to become sustainable, with Emma noting it's always a journey we all have to continue to improve on. From this, a collaboration was formed.
Torrisdale Castle Estate Independent Bottling is an exciting new branding avenue for Beinn an Tuirc. Emma explained that while Kintyre Gin has been established in its own light, it is now time to showcase Beinn an Tuirc more widely. The thinking behind independent bottling was the opportunity to establish a new branch of the brand that brings both the Torrisdale Castle Estate and distillery together. For the team, this avenue is about tying together the family businesses.
The new project entailed the independent cask bottling of a small batch of ten-year-old Foursquare rum. The rum has spent 5 years in Barbados, 4 years in Europe, and has been spending its final year resting in the Beinn an Tuirc distillery.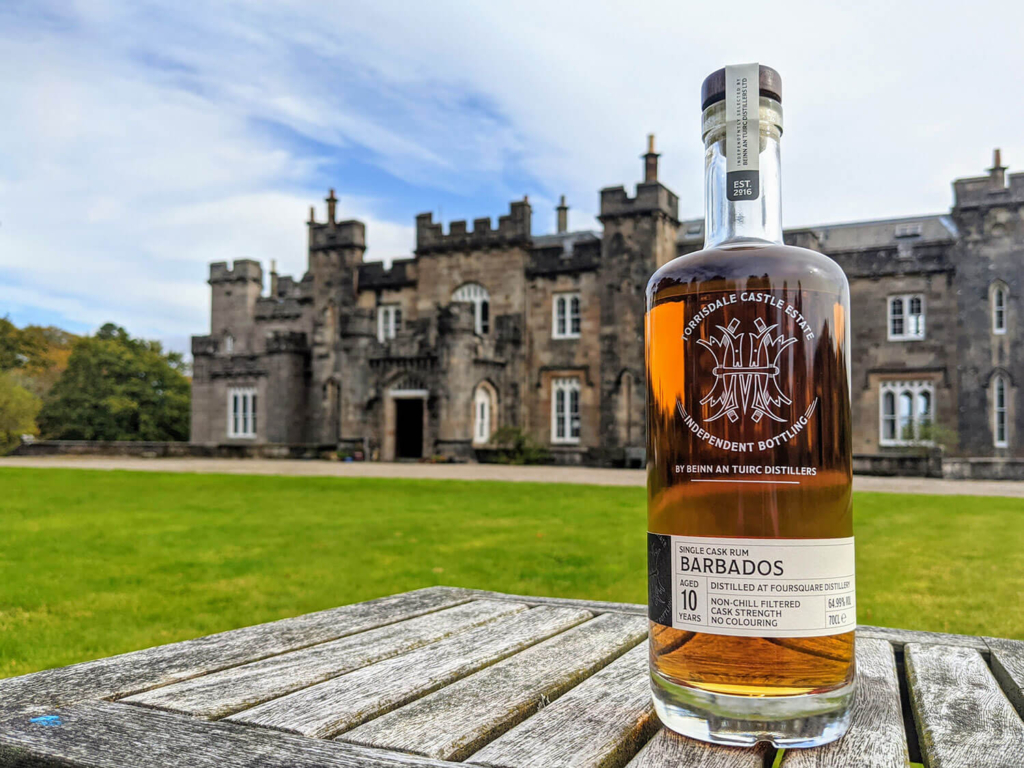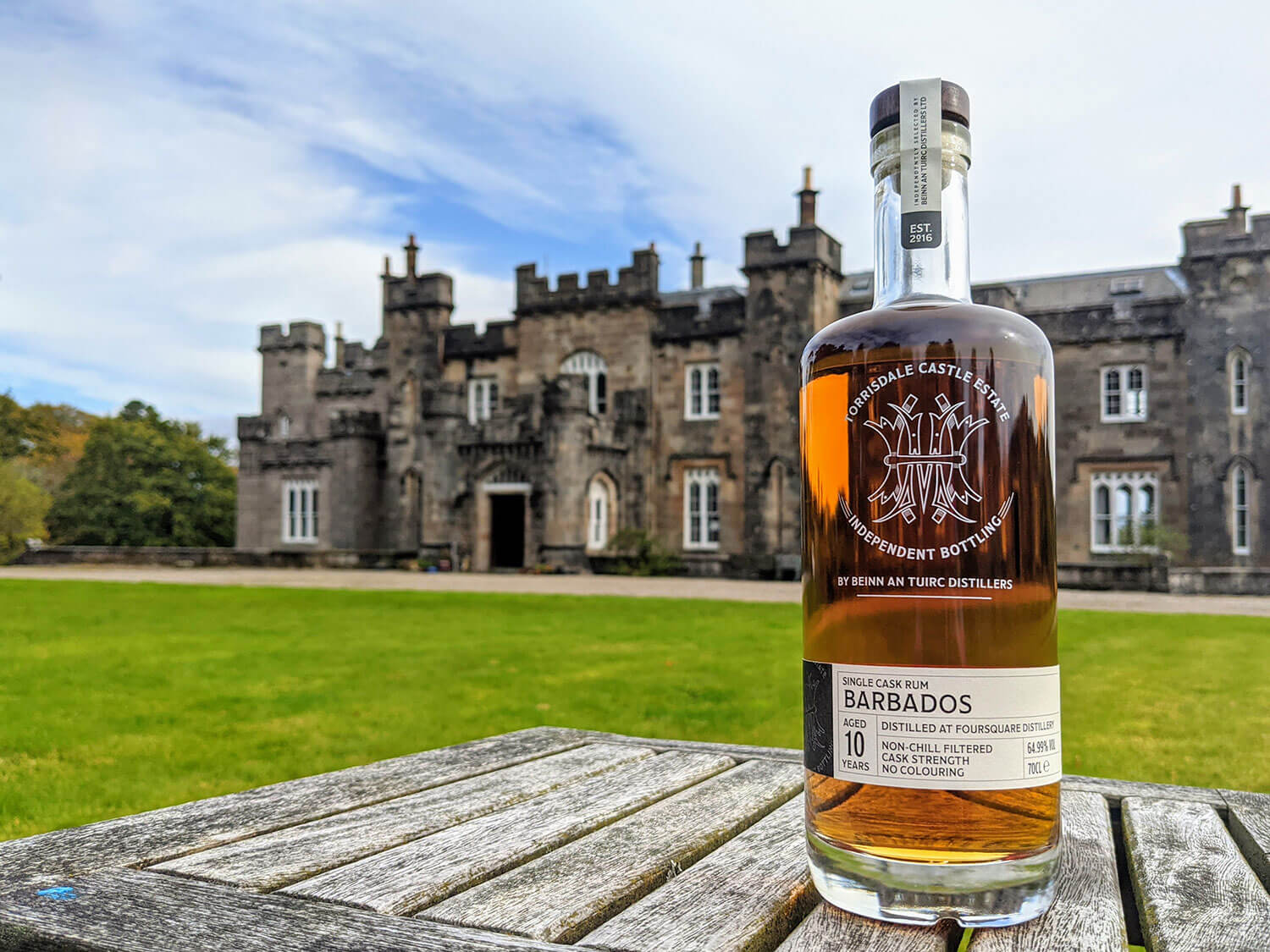 The bottle was designed by Kenny, one of the founders of Beinn an Tuirc, to represent the family heritage. The distillers had used screen printing on their Kintyre Gin bottles and knew this would be a strong design to follow. Emma explains that for them, screen printing gives the bottle a smooth, tactile feel. When dealing with rum, it is important to see the richness in colour. When screen printing, this allows you to see within the bottle, with both design and rum working in harmony to create a simplistic, effective design. Emma also points out the longevity of screen printing. With the design printed on to the bottle, there is a reduced worry of damage. There is no worry of labels peeling, ripping, or tarnishing. Overall, using screen printing provided the best quality, and clearest visual impact. There is also a fun dual-purpose element to the bottle, once finished, you can always upcycle the bottle to make a decoration for your home!
Although a service we had not offered or attempted before, the suggestion was put forward for Midton to provide screen printing for the bottles. At Midton, we specialise in the rapid production of small batch screen printing, but we had not ventured into glass bottles. Working with a local company with a focus on sustainability and keeping carbon emissions low, however, was too good an opportunity to let pass us by.
Working with Beinn an Tuirc was a pleasure for us at Midton. Being geographically close, with a good working relationship, meant that we could both go through the collaboration together and work efficiently to create the desired finished product. Collaborating with a local company allowed Beinn an Tuirc to follow their ethos of working locally and supporting local businesses. Working with a company like Beinn an Tuirc, who are so rooted in sustainability, proves Midton's ability to embrace and encourage sustainable working.
Bottling the FourSquare rum is only the start of Torrisdale Castle Estate Independent Bottling. The new branch of the business intends to continue bottling new exciting spirits, so keep your eyes peeled!
If you want to get your hands on one of the 250 bottles of 10-year-old Foursquare single cask rum, bottled at cask strength (64.99% ABV), go to the online shop, or visit Hall's of Campbeltown, Beinn an Tuirc's official outlet in Campbeltown, or their distillery near Campbelltown. The distillery has a shop, tasting room, and runs both virtual and in-person distillery tours. Visit the website for more information.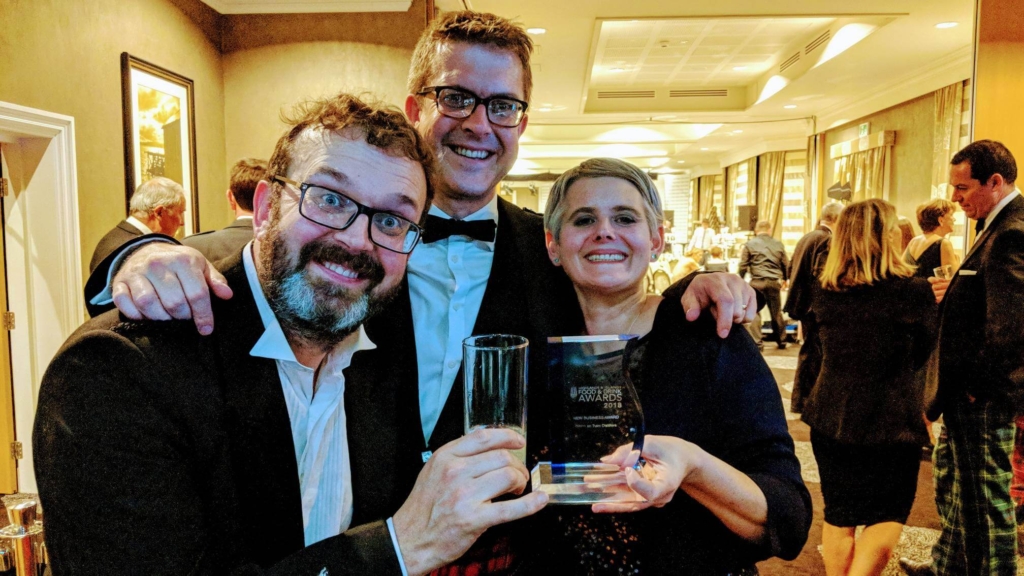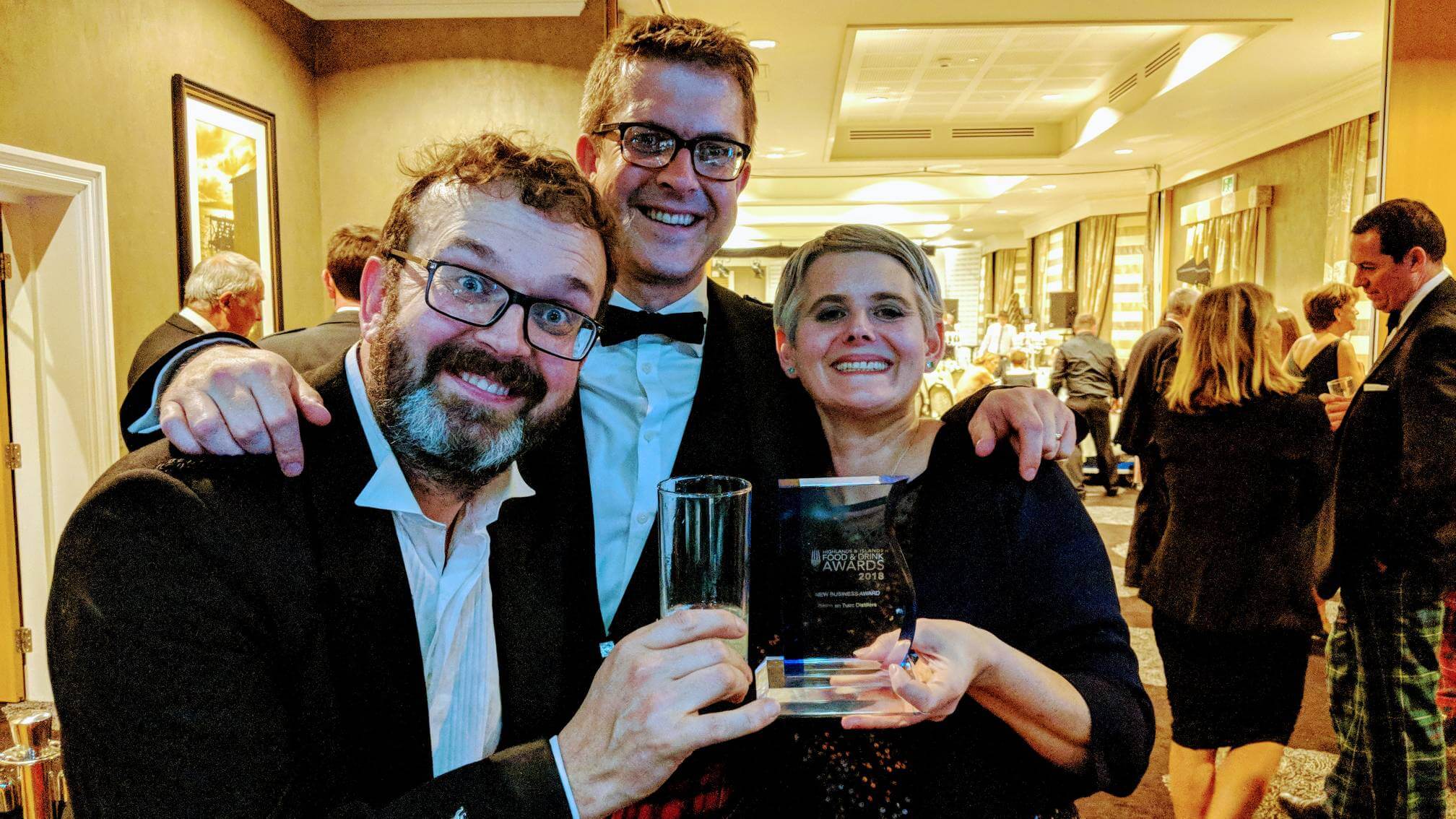 Beinn an Tuirc was established in 2016 by two brothers, Niall and Kenny McAlister Hall, and Niall's wife, Emma. Based on the Torrisdale Castle Estate, near Campbeltown in Argyll, the company produced their first bottle of their delicious Kintyre Gin in 2017. From here, the distillery has continually produced outstanding gins and is now moving into independent bottling.