Choosing an Acrylic Display Case
An acrylic case would make the perfect addition to any shop displays and office environments.
You're almost guaranteed to have products, trophies, awards and certificates that you want to put on display, but they're way too valuable to leave unprotected on your desk. You get the best of both worlds with a display case since your treasured items are protected from dust and harm, but they're still visible through your case!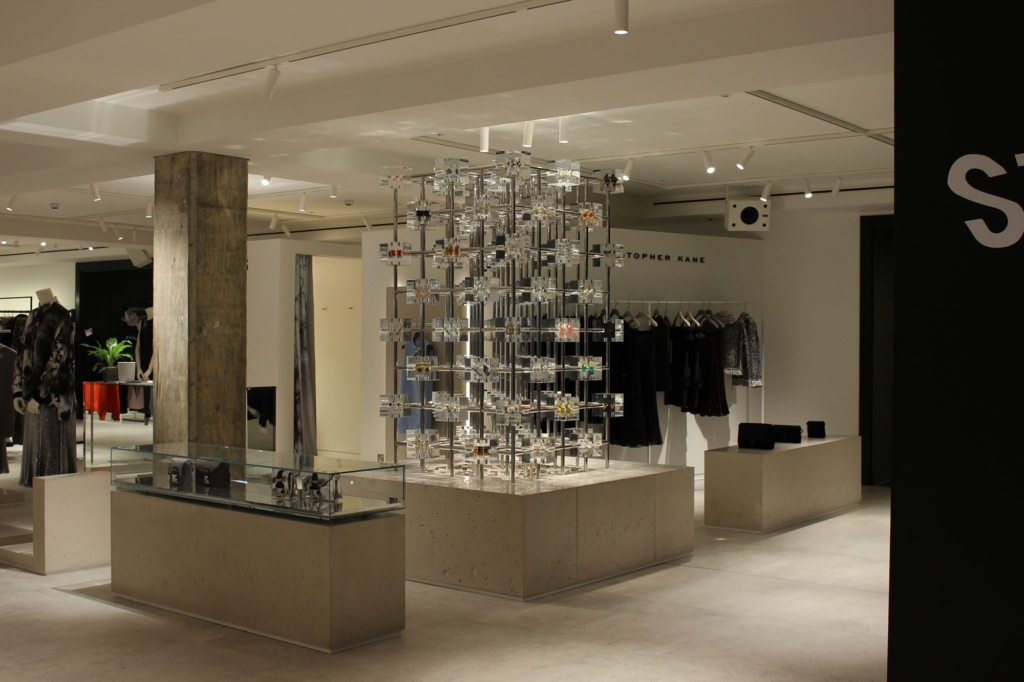 Choosing an acrylic display case that is the ideal size, and suits your style, is a little more complex than it seems. Are you going to get one specially made with custom materials? And if you're going bespoke, do you know how tall you need your cabinet to be?
At Midton, we are here and ready to help you answer these questions and take your displays to the next level!
What Acrylic Should I Opt For?
When you're considering an acrylic display case, an excellent first step is to decide what sort of acrylic you want to use! There are different thickness, colour, and transparency options, so you won't struggle to find something that perfectly suits your room. Follow your colour palette, or go for clear if you prefer a classic look! You can incorporate an acrylic frame too, or wood and metal if you so desire.
With a laidback office environment, you mightn't need thick acrylic to protect your display since it's likely to remain untouched anyway! If you're choosing a display case for your shop that's routinely explored by the public, thicker and more durable acrylic is an intelligent idea because accidents are more probable. Sturdy shape and form from your display case keep your treasures secure no matter the amount of activity on your shop floor or in your office.
Why Shouldn't I Consider Glass?
While glass cases can appear an attractive and traditional alternative, acrylic is more transparent, lighter, stronger, safer and cheaper than glass. General upkeep such as disinfection is easier with an acrylic surface. It doesn't streak as easily as glass does when wiped down. Glass can also obscure your displayed products because of its reflective attributes, whereas acrylic doesn't produce reflective light. Finally, acrylic can withstand intense impact, where glass would shatter and potentially cause injury.
How Much Shelf Space Do I Need?
Space should be one of your primary concerns when you're looking to choose an acrylic display case. Not only do you need to make room to position the cabinet, but your case itself needs to be able to store all the items you want to display. Measure the height and the width of your products, certificates and trophies, so you know how much shelf space you'll need in your case. It's always better to have too much room than too little, and you'll need extra space for manoeuvring your items into pretty positions.
With My Shelf Dimensions, Will It Fit In The Room?
Acrylic display cases are light and easy to shift, so you'll be able to switch up the positioning of your case around your room as long as you choose your shape wisely! Depending on the size of your office space or your shop floor, you may favour a custom acrylic wide and long display case or a slim and tall display case to hold your items. Taller buildings perfectly house tall cabinets, while more shallow and more extended rooms suit wide display cases to fill some space.
Would A Lock Be Sensible?
Any trophy or treasure worth putting on display must hold some value to you, and if the value is beyond sentimental, then a lock might be a worthwhile consideration. Particularly on shop floors where you're using your cases to display expensive jewellery, it's wise to add an extra layer of security to prevent theft or damage! However, if you're only showing off certificates and office achievements, then a lock mightn't be worth the time or hassle – after all, you'll only be opening that cabinet to dust down your awards every once in a while.
Should You Include Lighting?
Acrylic lighting can instantly improve any display in your case by highlighting the products inside! Any certificates you're showing off will be much easier to read with a spotlight, so incorporating lighting into your acrylic display case design may be a smart move. You could fix lighting panels to the bottom of your shelf, or you could add individual spotlights to the top of each unit if you're sure where your items are going to sit. Making your spotlights adjustable would be logical if you want to rearrange your display often!
Would Backlighting Work?
If your acrylic display case is transparent on all sides, but you're going to position the cabinet against the wall, you could consider adding backlighting to your products. Choose the face that would be against your wall and include a lighting panel rather than your usual sheet of acrylic. Backlit items stand out even more than spotlit products, and your display is guaranteed to attract attention! Lighting is one of the cheapest, quickest and most effective ways to level up your display case.
Can I Build This Myself?
Now that you're reasonably confident on your plan for your acrylic display case, including the materials you want to manipulate and the dimensions of your cabinet, it's time to turn your project into a reality. It's unlikely that you'll be able to find a shop-bought acrylic case that ticks all your boxes, but do you have the skill to create your display case on your own? If you don't, you need to get an acrylic manufacturer on board to facilitate your dream! Once you describe what you're looking for and settle on a design plan, a professional acrylic manufacturer will build your display case with great care and attention to detail. You can be sure that your finished product will suit all your needs and last for years to come.
Where Do I Find An Experienced Acrylic Manufacturer?
You're in luck. Here at Midton, we're ready and eager to help you achieve wonders with acrylic! We're an ambitious team with years of experience creating custom acrylic and crafting mementos, lighting and engineering products. You're in skillful hands! Contact us to find out how we can help you create and choose an acrylic display case that's perfect for you.