Can Acrylic be Recycled? Introducing Remade
In today's world, sustainability is becoming increasingly important as we realise the negative impact we have on our planet. This has led to a growing demand for circular products and materials, and we're proud to introduce Remade, to lead the way in recycled acrylic.
Remade is a 100% acrylic material that is made up of up to 70% recycled acrylic industrial waste. This means that it is not only environmentally friendly but also reduces the amount of waste in landfills. What's more, it is 100% recyclable, meaning that it can be reused again and again.
How did we discover Remade?
Investing in New Technology
As a company, we have seen vast improvements in our commitment to sustainability and reducing our environmental impact. So, taking control of our recycling process was a natural step for us. After research and consultation with Donasonic, based in Doncaster, we decided to invest in a custom-built acrylic granulator. This has been a game-changer for our business, and marks a significant turning point in our process. The granulator has eliminated our need for outsourcing our recycling, meaning we can ensure our waste is recycled appropriately. Not only this, but we have now developed our waste to create a circular material.
Research and Development
The output of our new acrylic granulator is in the form of acrylic chips, which can vary in size depending on the settings of the machine. We began experimenting with incorporating the chips into our virgin acrylic mix to create a recycled counterpart to our usual offering. By binding the chips with the virgin acrylic, we were able to achieve a similar quality product with a unique surface finish and the added benefit of using recycled material.
From this research, Remade has been created – a new sustainable product, providing a unique and eco-friendly alternative to virgin acrylic. This material is produced onsite at the factory, representing localised plastic recycling, and remanufacturing at its best.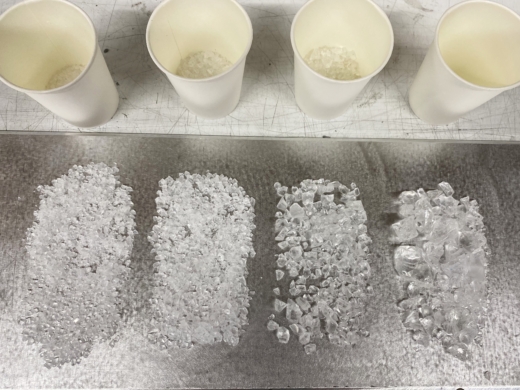 Recycled Acrylic Qualities
This material maintains 100% PMMA content, 100% recyclability, and is composed of up to 70% industrial waste. Even with this high recycled acrylic content, Remade preserves its material purity.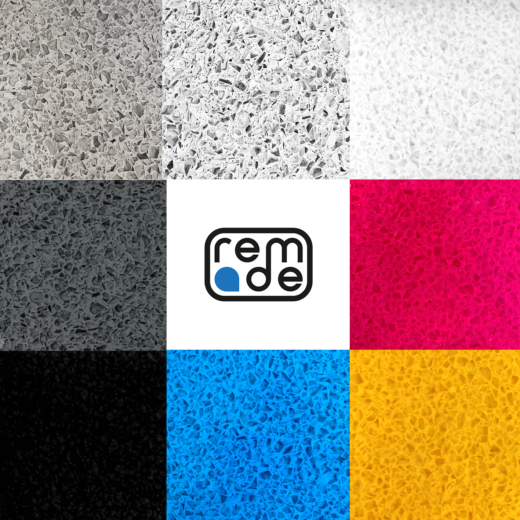 What are the benefits of Remade?
One of the unique selling points of Remade is that it can be cast in sheet form or in moldings. This versatility means that it can be used in a variety of applications, from furniture to architectural features. Unlike some of its competitors, Remade can also be pantone matched, ensuring that it can be customized to meet the exact specifications of your project.
In addition to its circularity and versatility, Remade is also incredibly durable and long-lasting. Its acrylic composition means that it is resistant to scratches and UV radiation, ensuring that it will maintain its appearance over time.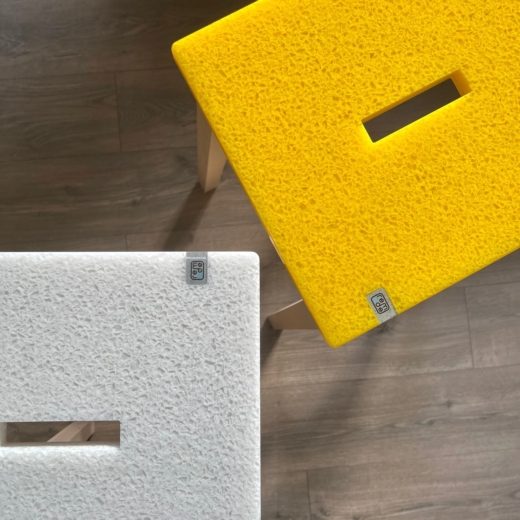 Another advantage of Remade is that it is easy to work with. It can be cut, drilled, and polished just like traditional acrylic, meaning that it can be used in a variety of manufacturing processes. This makes it a popular choice for designers and architects who are looking for a sustainable and versatile material that can be used in a wide range of applications.
At Midton, we believe that sustainability is not just a trend, it's a responsibility. That's why we're proud to introduce Remade – an innovative, customisable material that not only reduces waste but also transforms it into something beautiful and versatile.

Craig Cameron, Director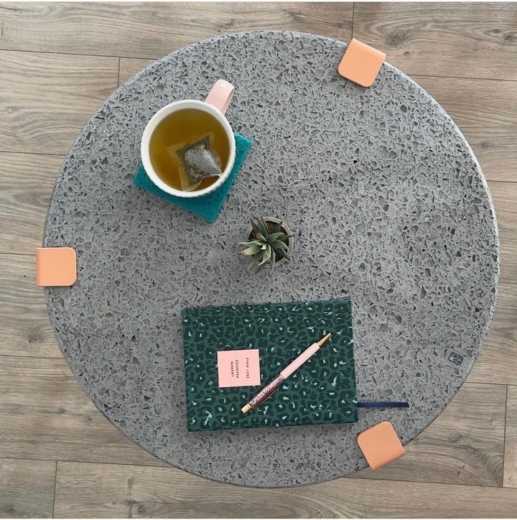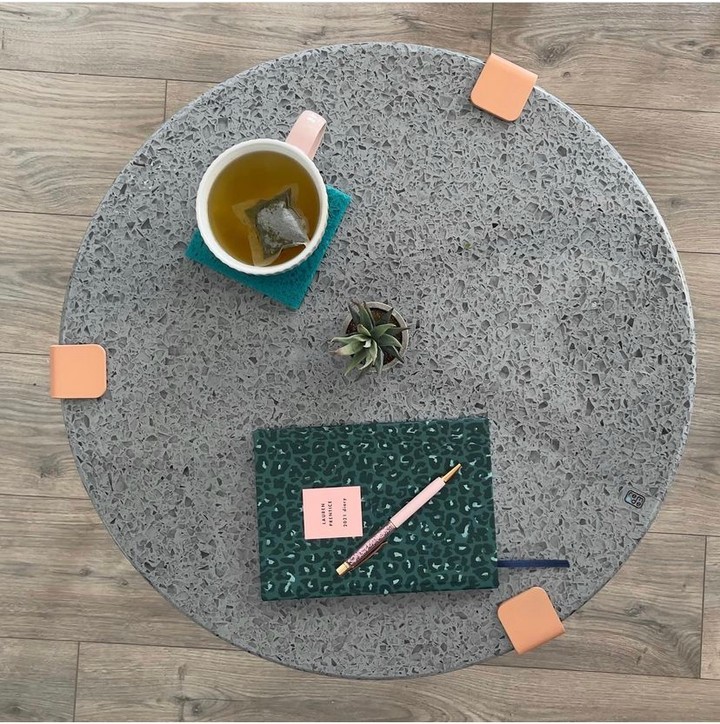 Remade showcases the power of recycling and sustainability. Its unique composition and versatility make it an ideal choice for a variety of applications, from furniture to architectural features. Its durability and ease of use make it a popular choice for designers and architects, while its circularity ensures that it is an environmentally responsible choice.
Find out more about Midton's sustainability practices here.