Why should you invest in a deal toy?
In this new digital age, businesses are always looking for ways to adapt and reinforce connections with fellow businesses and clients to celebrate achievements.
The art of gifting financial tombstones and deal toys is a longstanding tradition within the financial industry. This can be a powerful tool to leave a lasting impression of your brand in the offices, and minds, of companies you have worked with.
We've put together 5 reasons why you should invest in a deal toy.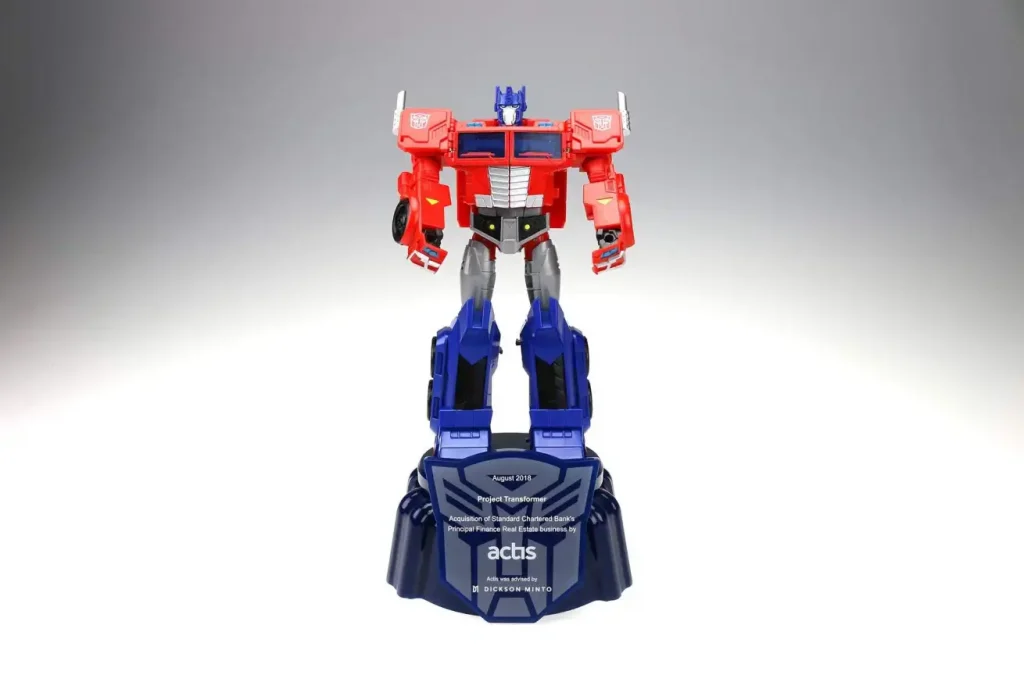 The Power of Recognition
Recognition is a strong tool. As human beings, we all love the feeling of accomplishment when achieving a goal or milestone. A deal toy or gift can be a fantastic way to evoke powerful emotions regarding a collaborative project. This physical token of gratitude allows a bespoke commemoration of your time with a client. This will inspire and motivate the recipient to work towards new deals. With the help of a deal toy, this motivation will lead to repeat business upon securing the next merger or acquisition.
Relationship Building
So, you've completed your first deal with a client. What now? How can you guarantee that they will remember the hard work your team invested into their deal?
This is where the deal toy comes into play. A recognition, customer care tool, and marketing strategy all built into one, the art of deal toys is powerful.
Creating a bespoke deal toy to celebrate a transaction shows support for both your client's and teams work – creating a sense of camaraderie. From this, strong foundations of a business relationship are built. Your client will remember your recognition and will have a physical memento of your transaction to facilitate this. This will encourage repeat business when supporting future deals.
Recognising Hard Work
David Sturt, of O.C. Tanner Co., wrote in Harvard Business Review that upon studying close to 1,000 employees from several large businesses, 70% of employees whose efforts were recognised by management were happy in their jobs. Comparing this with those who received no recognition, only 39% were happy. This confirms the thought that recognising an employee's performance ensures, and boosts, happiness within the workplace. These benefits are not just seen for employees. The benefits of employee recognition include improved performance, loyalty, and focus.
Think of deal toys in the same respect as an athlete receiving a trophy in the sporting world, or a musician receiving an esteemed award. These encourage the recipient to strive for more, alongside rewarding their focus and determination. Similarly, when an employee receives a tombstone in recognition of a deal they were part of, this will feed their hunger to find more business.
Lasting Impact
Deal toys are a fantastic way to create a lasting impact with your clients. Creating a physical memento of your time together creates a personal souvenir of your working relationship. Holding sentimental value of both the deal, and your time working together, this recognition will take pride of place in the recipient's office. From this, your client will easily remember you when looking to complete new deals. Using this reasoning, deal toys can be seen as a branding tool, helping with long-term marketing.
Status
Finally, a well-designed deal toy holds status within the financial industry. Investing in a fitting tombstone allows your business to stand out from the crowd. Here at Midton, our inhouse design team is on-hand to ease this process for you. Whether you have a defined idea, initial concepts in mind, or looking for fresh inspiration, we can help create a design that is sure to stand out in the crowd.